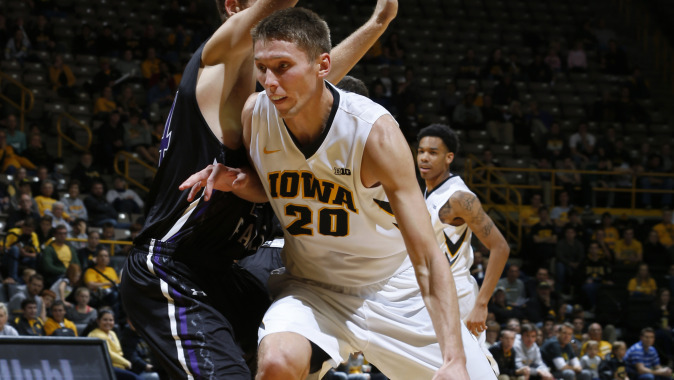 Nov. 30, 2015
By JAMES ALLAN
hawkeyesports.com
IOWA CITY, Iowa — The constant prodding by University of Iowa head coach Fran McCaffery toward senior Jarrod Uthoff is hitting home… to a degree.
Uthoff is leading Iowa in scoring through six games, averaging 18.2 points on 51.9 percent shooting. He has made 13 3-pointers and is connecting at a 46.4 percent rate.
His production is coming on 13 shots per game.
"I'd like him to be more aggressive," McCaffery said at a Monday news conference in the Media Room inside Carver-Hawkeye Arena. "He had 20 points on 15 shots against Wichita State. I'd like him to take 22 shots for 35 points."
It's the message McCaffery has preached to Uthoff since he first suited up for the Hawkeyes as a sophomore in 2014-15. Uthoff has the green light.
"It's slowly kicking in," said Uthoff. "I have shot more than I have in the past."
During Iowa's three-game stretch at the Advocare Invitational, Uthoff averaged 20 points on 15 shots in 34 minutes. He shot 50 percent from the floor, making 23-of-46 attempts.
Uthoff doesn't have a gunner's mentality. He's a cerebral player that always has what's best for the team on his mind.
"If I don't feel comfortable, I move (the ball) on," said Uthoff. "If I don't think it's the right shot for the team, I move it on. The wheels are always turning, it's whatever I think is best."
It's why McCaffery calls Uthoff a "winning player." He shoots at a high percentage because he doesn't take bad shots.
"It's always a good shot when he takes it," said McCaffery. "You can't think of many times he has taken a bad shot, where I said that's a bad shot. He's a unique kid. You have to love that about the kid."
TAKEAWAYS FROM ORLANDO
Iowa played in a loaded field in the Advocare Invitational, going 1-2 in the eight-team field. The Hawkeyes trailed by double figures before rallying to take the lead in losses to Dayton (82-77) and No. 17 Notre Dame (82-77). Iowa rebounded and played a complete game in an 84-61 victory over No. 20 Wichita State.
"We have a lot of fight in us," said Uthoff. "We get down a lot to Dayton; we come back. We get down a lot to Notre Dame; we come back. On that third day, we played a great Wichita State team, we fought, and came after them."
It's a battled-tested mindset that resonates in Iowa's veteran-laden team.
"We have toughness about our team that we're not going to quit and fold," said senior Adam Woodbury. "We got down by 10 to 15 points and never gave up, we kept coming. We're going to try to rectify that on Wednesday."
ON THE HORIZON
The Hawkeyes welcome Florida State to Mediacom Court on Wednesday for the Big Ten/ACC Challenge. It is Iowa's first game in Iowa City since Nov. 15 when it defeated Coppin State, 103-68.
Florida State (4-1) is a high-scoring team, averaging 91.4 points and shooting 53.7 percent from the floor. Freshmen Dwayne Bacon (20.6 points) and Malik Beasley (20 points) lead the Seminoles in scoring. Bacon was a teammate of Iowa's Andrew Fleming last season at Oak Hill Academy.
"It's rare that you have two freshman that average 20," said McCaffery. "Those two guys are special. Guard Xavier Rathan-Mayes makes them go. He had some 30-point games last year as a freshman, which doesn't happen too much at this level. Those three are a handful."
Iowa has won its last two ACC/Big Ten Challenge matchups, defeating Notre Dame in 2013 in Iowa City, and downing North Carolina last season in Chapel Hill.