Box Score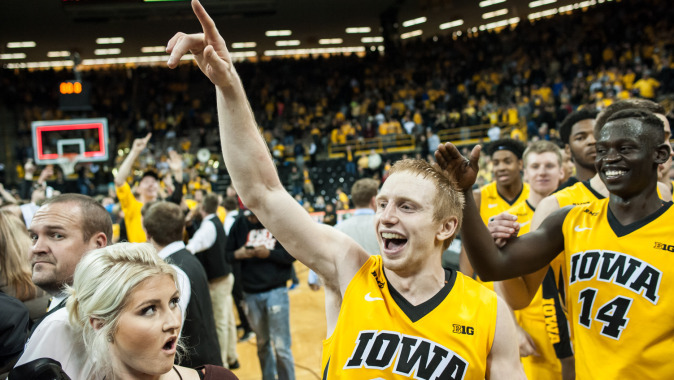 Dec. 29, 2015
Box Score | USATSI Gallery

By JAMES ALLAN
hawkeyesports.com
IOWA CITY, Iowa — For 40 minutes on Tuesday night on Mediacom Court, you wouldn't have known which team was ranked No. 1 in the country.
The University of Iowa men's basketball team never trailed and led for all but 44 seconds in handing top-ranked Michigan State an 83-70 loss — its first defeat of the 2015-16 season — in its Big Ten Conference opener.
It was the first Iowa victory over a No. 1 ranked opponent since 1999 (Connecticut) and the first win over the Spartans since 2011. The Hawkeyes had never defeated a top-ranked opponent inside Carver-Hawkeye Arena until now.
"This is a stepping stone," said senior Mike Gesell, who led Iowa with 25 points. "It's a way to start the Big Ten off right. Our ultimate goal isn't just to beat Michigan State, it's to win a Big Ten championship, but it does feel good to finally beat them."
Iowa won the game with its rebounding and defense.

| | | | |
| --- | --- | --- | --- |
| | 1st | 2nd | Final |
| #1/1 Michigan St. (13-1, 0-1) | 23 | 47 | 70 |
| Iowa (10-3, 1-0) | 37 | 46 | 83 |
| | | |
| --- | --- | --- |
| Stats at a Glance | MSU | IOWA |
| FG Percentage | 42.2 | 48.2 |
| 3-Point FG Percentage | 23.1 | 46.2 |
| FT Percentage | 65.0 | 74.2 |
| Total Rebounds | 41 | 35 |
| Points in the Paint | 44 | 30 |
| Points off Turnovers | 16 | 21 |
"We sustained effort and paid attention to detail with regard to the game plan," said UI head coach Fran McCaffery. "We put pressure on the ball and pressure on the next pass."
The Hawkeyes limited Michigan State to 42.2 percent shooting (3-of-13 from 3-point range) and forced 16 turnovers. The Spartans out-rebounded Iowa, 41-35, but that was a win in the Hawkeye book. Michigan State was plus-14.5 on the glass over its first 13 games.
"Michigan State is one of the best rebounding teams in the country and we did a good job limiting their second shots," said Gesell. "That fueled our break."
Gesell had his best offensive game of his career, making 7-of-10 field goals and converting 11-of-13 free throws en route to a career-high 25 point output.
"His decision-making was incredible because you don't have a lot of opportunities to drive against that defense," said UI head coach Fran McCaffery. "He was getting it to the rim and getting them in foul trouble. When he's breaking the defense down like that, it opens up things."
Junior Peter Jok scored 19 points on 5-of-12 field goals, including three 3-pointers, redshirt freshman Nicholas Baer scored 11 points, and senior Jarrod Uthoff added 10.
Iowa led 14-13 at the under-12 media timeout before taking control in the late stages of the opening half. Baer drained a 3-pointer at the 9:12 mark to build a 24-17 lead and Dom Uhl banked home a 3-pointer from the top of the circle putting the Hawkeyes up 31-17 with just over five minutes left in the first half.
The Hawkeyes led 37-23 at the break converting 11 Michigan State turnovers into 12 points. The Spartans' 23 point first-half output was its lowest of the season.
Iowa kept its foot on the gas in the second half and maintained its lead by shooting 63.6 percent from the floor and by getting to the free throw stripe. The Hawkeyes converted 16-of-19 free throws over the final 20 minutes.
The Hawkeyes stretched their lead to 19 points (58-39) on a Jok 3-pointer with 10:59 remaining before Michigan State did what Tom Izzo teams do. They made a push.
The Spartans pulled to within 10 points on a Matt Costello layup with 6:12 remaining. Gesell followed with four straight points on a jumper and two free throws before finding Adam Woodbury in a two-man game to put Iowa up 69-53 with 4:37 remaining.
The Hawkeyes finished.
"We had a tough one at Iowa State and you can do two things from that," said Gesell. "You can learn from it or dwell on it. I am happy for my guys; we learned from it, were mature about it and turned it around tonight."
Eran Harris led Michigan State with 21 points on 7-of-15 shooting, while Costello scored 17. Bryn Forbes, who scored 32 points in a Dec. 22 win over Oakland, was held to three points. He was 1-of-5 from the field and committed two turnovers.
"Coach asked (Anthony) Clemmons If he wanted him (Forbes)," said Jok. "He said yes and he did a great job on him and shut him down."
Iowa hits the road to face off against a second straight top-15 team, traveling to West Lafayette to meet No. 14 Purdue on Saturday.
"I would like to think this is a great confidence builder, but we get another top ranked team Saturday," said McCaffery. "Hopefully we learned lessons of how to compete, execute, and not take a possession off and we can carry that over for Purdue."