Box Score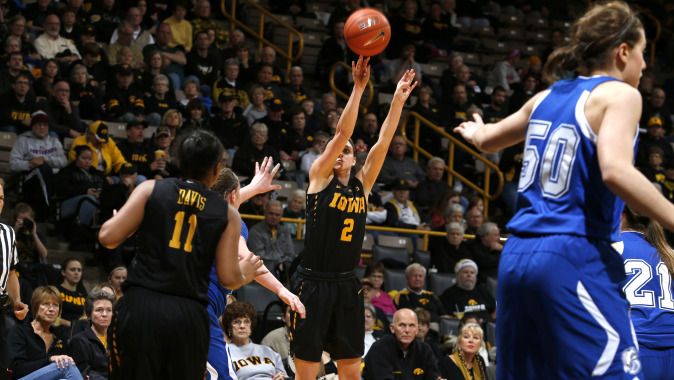 Dec. 31, 2015
By DARREN MILLER
hawkeyesports.com
LINCOLN, Neb. — It isn't a shock that the No. 25 University of Iowa women's basketball team opened Big Ten Conference play by outrebounding Nebraska and holding an advantage in bench production. But the scope of Hawkeye dominance during a 74-68 victory was a bit of a stunner.
Iowa (11-2 overall, 1-0 Big Ten) out-rebounded the Cornhuskers, 51-29, and scored 18 bench points (compared to two by Nebraska) on New Year's Eve day in Pinnacle Bank Arena. The Hawkeyes have won four consecutive games against the Huskers, who fell to 9-3, 0-1.
In its previous two wins against Bradley and Drake, Iowa had the upper hand on the glass and off the bench. They continued that momentum in convincing fashion in the league opener.
"We were worried about rebounding coming in here," UI head coach Lisa Bluder said. "We stress it all the time and prepared ourselves well with our nonconference schedule. We played good, athletic teams and we went into hostile environments and that set us up well to start Big Ten play."
UI junior Ally Disterhoft pulled down a game-high 11 rebounds to go with her team-high 17 points. Disterhoft grabbed four offensive rebounds; as a team Iowa had 14 offensive boards.
"We stressed getting on the boards and emphasizing rebounding," Disterhoft said. "I tried to create by crashing the offensive boards and then do the same on defense by making an extra effort with rebounding."
Five Hawkeyes had at least five rebounds: Disterhoft, senior Kali Peschel (eight), sophomores Christina Buttenham and Chase Coley (six apiece), and sophomore Whitney Jennings (five). As a team, Nebraska had just 19 defensive rebounds.
Iowa led by as many as 16 points in the second half (44-28) when Coley made a jumper off an assist from Disterhoft. The Hawkeyes began to surge in the second quarter when they outscored Nebraska, 24-11, with Disterhoft scoring nine points. Her 3-pointer at the buzzer put Iowa ahead, 42-28, at the break.
"Our offense was great in the second quarter," Bluder said. "That was huge momentum for us; Ally hitting that 3 before halftime was a big momentum boost, too."

| | | | | | |
| --- | --- | --- | --- | --- | --- |
| | 1st | 2nd | 3rd | 4th | Final |
| No. 25 Iowa (11-2, 1-0) | 18 | 24 | 15 | 17 | 74 |
| Nebraska (9-3, 0-1) | 17 | 11 | 19 | 21 | 68 |
| | | |
| --- | --- | --- |
| Stats at a Glance | IOWA | NEB |
| FG Percentage | 45.6 | 36.6 |
| 3-Point FG Percentage | 35.0 | 33.3 |
| FT Percentage | 78.9 | 70.6 |
| Total Rebounds | 51 | 29 |
| Points in the Paint | 26 | 36 |
| Points off Turnovers | 11 | 21 |
The Hawkeyes made 9-of-16 field goals in the second quarter (56.3 percent), 2-of-5 3-point field goals, and all four free throws.
Bluder expected a Husker rally and she got it. Nebraska closed to within 59-56 with 5:58 to play, but Iowa pushed the lead back to eight points less than two minutes later.
"We knew they were going to make a comeback," Bluder said. "Our team withstood the momentum swing they had in the second half. When they got it to three, we handled that well."
The strength of the Hawkeye bench was also evident with freshman Tania Davis scoring seven points with four assists, freshman Megan Gustafson with six points, three rebounds, and three blocked shots, and Buttenham with three points and six rebounds. Bluder had special praise for senior Claire Till, who in five minutes, grabbed three rebounds (two offensive), was 2-of-2 from the free throw line, and blocked a shot.
"I am so proud of Claire Till," Bluder said. "She came in and played five huge minutes of great basketball for us. That was big."
Iowa shot 46 percent from the field for the game (26-of-57), 35 percent from 3-point (7-of-20), and 79 percent from the line (15-of-19). Coley was 6-of-9 from the field and 4-of-5 from the line for 16 points, junior Alexa Kastanek — a native of Lincoln, Nebraska — made 5-of-8 field goals with two 3-pointers to finish with 13 points.
Jennings returned to the starting lineup and responded with six points, five rebounds, and four assists in 32 minutes.
It is the fourth time in the last five seasons that the Hawkeyes have opened Big Ten play with a victory.
"It's always nice to get a win in the Big Ten, but it's especially nice to get one on the road," Disterhoft said.
The last time the Hawkeyes opened the league season with a road win was 73-63 at Wisconsin on Dec. 22, 2008.
Jessica Shepard led Nebraska with 28 points and eight rebounds.
Iowa looks for its 25th consecutive win at home against former head coach C. Vivian Stringer and Rutgers on Monday, Jan. 4, on Mediacom Court inside Carver-Hawkeye Arena. The Hawkeyes won the only meeting between the teams last season, 79-72, at Rutgers.
"They have an incredibly athletic team that is playing extremely well," Bluder said of the Scarlet Knights.
Rutgers (10-3) has won five games in a row and opened the Big Ten season with a 66-55 win over Minnesota on Thursday.