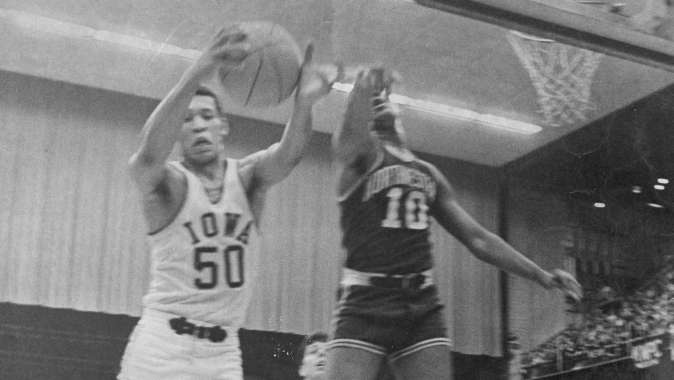 Jan. 9, 2016
IOWA CITY, Iowa — Former University of Iowa men's basketball standout John Johnson passed away this week at the age of 68 at his home in San Jose. Funeral arrangements are pending.
Johnson, a native of Milwaukee, racked up 1,172 points in two seasons (1969-70) for the Hawkeyes; a total that places him 26th on Iowa's all-time scoring list. He holds the top two scoring games in school history; pouring in 49 points against Northwestern as a senior (1970) and 46 against UW-Milwaukee his junior season (1968). Johnson also holds the school record for most field goals in a game with 20 (versus Northwestern).
Johnson earned All-America and first-team All-Big Ten distinction his senior season after scoring a school-record 699 points, averaging a staggering 27.9 points per game in 25 contests. Johnson was a member of Iowa's "Six Pack" — the highest scoring team in Big Ten history (102.9 ppg) that eclipsed the century mark 12 times. Johnson and the Ralph Miller-coached Hawkeyes won all 14 Big Ten games and advanced to the NCAA Tournament.
Johnson's scoring average of 23.9 points is second in Iowa history only behind Sam Williams (24.0 ppg in 1967-68). Johnson, who led the team in scoring and rebounding his two seasons at Iowa, was named team Most Valuable Player both in 1969 and 1970.
"We are deeply saddened by the passing of John Johnson," said UI head men's basketball coach Fran McCaffery. "John was a tremendous talent, who was part of one of the most memorable Iowa basketball teams in school history, and was an even better person. Our thoughts and prayers are with the entire Johnson family."
Johnson was drafted seventh overall by the Cleveland Cavaliers in the 1970 NBA Draft. He had a productive 12-year career with four NBA teams, making two All-Star Game appearances. Johnson won an NBA championship with the 1979 Seattle SuperSonics, where he was reunited with former Hawkeye teammates Fred Brown.