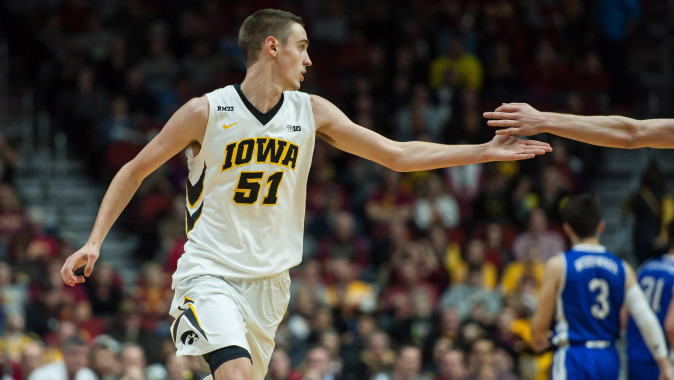 Jan. 11, 2016
Editor's Note: The following first appeared in the University of Iowa's Hawk Talk Daily, an e-newsletter that offers a daily look at the Iowa Hawkeyes, delivered free each morning to thousands of fans of the Hawkeyes worldwide. To receive daily news from the Iowa Hawkeyes, sign up HERE.
By MATTHEW WEITZEL
hawkeyesports.com
IOWA CITY, Iowa — The University of Iowa men's basketball team's depth took a hit in early December when junior forward Dale Jones suffered a season-ending knee injury. Jones was averaging 13 minutes and 5.5 points per game.
With the loss of Jones, other Hawkeye reserves have been asked by head coach Fran McCaffery to increase their production. One of those players is redshirt freshman walk-on Nicholas Baer.
Entering the month of January, Baer had the best offensive rating on the roster — according to KenPom.com — and the best shooting percentage of anyone who has played at least 35 percent of available minutes.
"Nicholas has a complete game," said McCaffery. "He scores inside, can hit 3s, moves the ball, can put it on the deck, hustles, and understands how to play. He's going to impact the game when he's on the floor."
And impact the game he has. The native of Bettendorf, Iowa, has scored in double figures five times this season. Baer shoots the basketball at a high percentage inside and outside, while also grabbing rebounds, collecting steals, and blocking shots.
Baer was named Big Ten Freshman of the Week on Dec. 21 following his performance against Drake (Dec. 19). He scored 13 points, corralled seven rebounds, and blocked a personal best six shots in Iowa's 70-64 victory over Drake at the Hy-Vee Big Four Classic in Des Moines. The six blocks broke the Wells Fargo Arena record in a college basketball game.
Baer said that his confidence grows with each game, thanks in large part to his teammates.
"Our starters do a terrific job of making sure all the players coming off the bench feel comfortable and it's a testament to them," Baer said.
The 6-foot-7, 200-pound forward played a large role in Iowa's Big Ten wins over top-ranked Michigan State and No. 14 Purdue to start conference play. Baer netted 11 points, snagged five rebounds, and denied two shots against the Spartans. At Purdue, he scored seven crucial points, making all three shot attempts, in the final 6:30 of the contest, while also registering four rebounds and two blocks.
"I'm not worried about making a big play at a big moment, it's making the play as it comes," said Baer. "(For me) it's keeping the game as simple as possible."
During Iowa's current five-game winning streak, Baer is fourth on the team in scoring (10.4) and rebounding (4.8), and second in blocks (2.4). He is shooting the ball at a blistering percentage from long distance (61.5, 6-of-11) and inside the 3-point arc (73.7, 14-of-19).
McCaffery said he's happy for Baer because all he wanted was an opportunity.
"He believed in himself and we believe in him," McCaffery said. "He has worked hard from the minute he said he was coming here. I couldn't be prouder of him. Everybody on the team loves him."
Baer and the Hawkeyes return to the court Thursday when they travel to East Lansing, Michigan, to face nationally-ranked Michigan State for a second time in as many weeks. Tipoff is set for 6 p.m. (CT) from the Breslin Center.