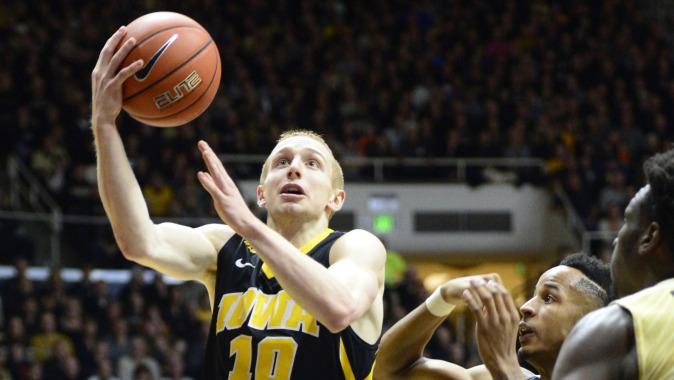 Jan. 12, 2016
Editor's Note: The following first appeared in the University of Iowa's Hawk Talk Daily, an e-newsletter that offers a daily look at the Iowa Hawkeyes, delivered free each morning to thousands of fans of the Hawkeyes worldwide. To receive daily news from the Iowa Hawkeyes, sign up HERE.
By SAM STYCH
hawkeyesports.com
IOWA CITY, Iowa — Knock off top-ranked Michigan State at home in front of your own fans — check. Overcome a 19-point deficit to defeat 14th-ranked Purdue on the road — check. Remain unbeaten in Big Ten Play (3-0) — check.
Ranked 16th in the latest Associated Press Poll, the University of Iowa men's basketball team has matched its best start under head coach Fran McCaffery in six seasons (12-3) and is off to its best start in conference play since 2003.
A big reason for the Hawkeyes' impressive start can be attributed to the play of senior Mike Gesell. The four-year starting point guard is in the midst of a breakout year, averaging career bests in nearly every stat line — scoring (9.9), rebounds (3.5), assists (6.9), field goal percentage (48.5), 3-point accuracy (50.0), and assist-to-turnover ratio (3.3).
So what's the difference between this year and Gesell's first three years?
"A lot of it has to do with roles," said Gesell, who is averaging 18 points and 6.7 assists during Iowa's 3-0 start in league play. "I feel like this year I have stepped up more as a scorer and also as a facilitator.
"I'm seeing the court a lot better and that comes with experience. My feel for the game is a lot better this year and that's why my assist numbers have gone up. I've been more aggressive in trying to score more."
Gesell's increased role has seen him produce 10 or more assists in three games this season. He also tallied a career-high 25 points in Iowa's upset victory over then No. 1 Michigan State.
However, no performance was more notable than when he recorded his first career double-double (22 points, 10 assists) in last week's victory over Nebraska. That performance earned him Big Ten Player of the Week honors.
"It's my job to get the ball to my teammates and find different ways to help get them open," said Gesell. "My job as the point guard is to do whatever it takes to win. Different games are going to flow in different ways. That is what is fun about being a point guard."
Gesell continues to out-do himself nearly every other game and this breakout year has come by no surprise to McCaffery or his teammates.
"He's a terrific player, an incredibly hard worker, is smart, has experience, and he wants it badly," said McCaffery. "He's doing exactly what I thought he would do."
"I feel like this is the best year he has had because he has changed his game — he's looking to get everyone involved, but at the same time, when he has the chance, he goes and scores," said junior Peter Jok.
While the Hawkeyes may be in a solid position at the season's halfway point, Gesell knows there are still a lot of games to be played.
"We're sitting in a pretty good spot right now, but you never know what's going to happen," said Gesell. "It's a long season and for us to keep winning we have to focus on getting better every day.
"We can't worry about rankings or who we have next on the schedule. We just have to worry about getting better each and every day, and if we do that the rest will take care of itself."
Iowa travels to East Lansing on Thursday for a rematch against No. 4 Michigan State (16-1, 3-1). The is set to begin at 6 p.m. (CT), and it will be televised nationally on ESPN.