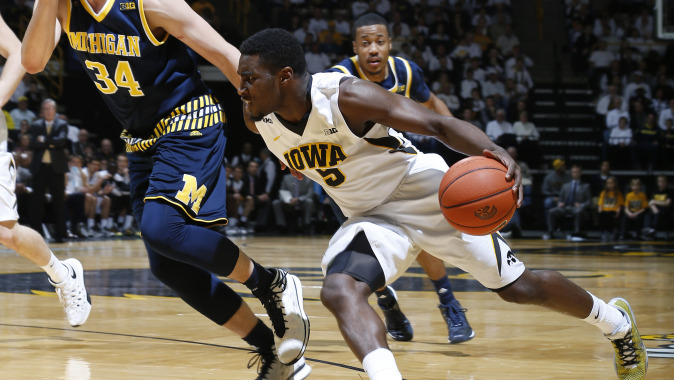 Jan. 18, 2016
IOWA CITY, Iowa — The University of Iowa men's basketball team is ranked ninth in both the Associated Press and USA Today Coaches Poll after notching a pair of victories last week over No. 4 Michigan State on the road (76-59) and Michigan at home (82-71).
Iowa's No. 9 ranking is its highest during the Fran McCaffery era and first since being ranked seventh on Nov. 27, 2001. McCaffery's 2013-14 squad was ranked as high as 10th on Jan. 20, 2014.
The Hawkeyes' 17-point triumph at Michigan State last Thursday was it largest margin of victory in East Lansing, Michigan, since 1983 and snapped an 18-game losing skid at the Breslin Center. Iowa's win over Michigan improved its conference record to 5-0, marking the first time the Hawkeyes won their first five league games since the 1996-97 campaign.
AP Poll
1. Oklahoma
15-1
1,625
2. North Carolina
16-2
1,515
3. Kansas
15-2
1,499
4. Villanova
16-2
1,403
5. Xavier
16-1
1,321
6. West Virginia
15-2
1,278
7. Maryland
16-2
1,259
8. SMU
17-0
1,179
9. IOWA
14-3
1,167
10. Texas A&M
15-2
994
11. Michigan State
16-3
950
12. Arizona
15-3
801
T13. Virginia
13-4
649
T13. Baylor
14-3
649
15. Miami
13-3
645
16. Providence
15-3
609
17. Louisville
14-3
608
18. Butler
13-4
439
19. Iowa State
13-4
411
20. Duke
14-4
375
21. USC
15-3
338
22. Purdue
15-3
322
23. Kentucky
13-4
276
24. South Carolina
16-1
252
25. Indiana
15-3
210
Coaches Poll
1. Oklahoma
15-1
763
2. North Carolina
16-2
727
3. Kansas
15-2
700
4. Villanova
16-2
674
5. Maryland
16-2
629
6. Xavier
16-1
616
7. West Virginia
15-2
585
8. Texas A&M
15-2
532
9. IOWA
14-3
494
10. Michigan State
16-3
461
11. Arizona
15-3
438
12. Duke
14-4
360
13. Virginia
13-4
340
14. Miami
13-3
319
15. Baylor
14-3
306
16. Louisville
14-3
288
17. Providence
15-3
269
18. South Carolina
16-1
231
19. Kentucky
13-4
206
20. Pittsburgh
15-2
17-3
21. Iowa State
13-4
173
22. Purdue
15-3
167
23. Indiana
15-3
162
24. Butler
13-4
156
25. USC
15-3
103