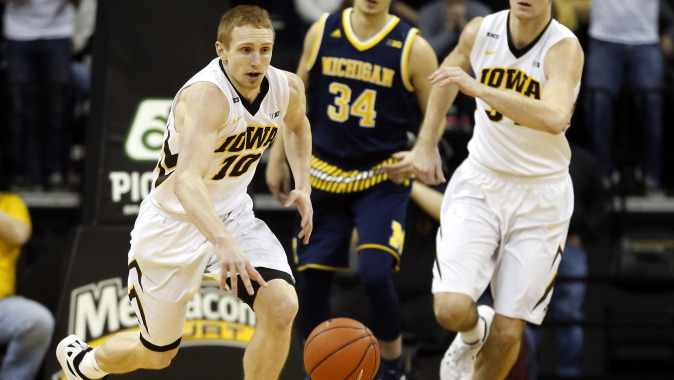 Jan. 19, 2016
IOWA CITY, Iowa — University of Iowa men's basketball senior Mike Gesell is one of 30 NCAA men's basketball student-athletes to be selected as candidates for the 2015-16 Senior CLASS Award in collegiate basketball.
An acronym for Celebrating Loyalty and Achievement for Staying in School, the Senior CLASS Award focuses on the total student-athlete and encourages students to use their platform in athletics to make a positive impact as leaders in their communities.
To be eligible for the award, student-athletes must be classified as an NCAA Division I senior and have notable achievements in four areas of excellence: community, classroom, character, and competition.
The Senior CLASS Award winner will be announced during the 2016 NCAA Men's Final Four.
Mike Gesell, who earned his finance degree in three years and is currently taking graduate courses, is having a career season leading the team at point guard. The native of South Sioux City, Nebraska, is averaging career bests in scoring (9.5), rebounds (3.6), assists (6.9), field goal percentage (.470), 3-point accuracy (.435), and assist-to-turnover ratio (3.5).
Gesell was named Big Ten Player of the Week on Jan. 11 after posting his first career double-double (22 points and 10 assists) in a 77-66 victory over Nebraska (Jan. 5). Gesell matched career highs in free throws made (11) and attempted (13). He scored 19 of his 22 points and dished out seven of his 10 assists in the second half.
After netting a career-best 25 points (7-of-10 FG, 11-of-13 FT) to lift Iowa to an 83-70 win over No. 1 Michigan State, the senior had seven points, seven rebounds, and seven assists in Iowa's victory at No. 14 Purdue on Jan. 2. His efforts earned him national and Big Ten Player of the Week honors on Jan. Jan. 4, by the website College Sports Madness.
Gesell and the Hawkeyes (14-3, 5-0), winners of seven straight, travel to Piscataway, New Jersey, on Thursday to face Rutgers (6-13, 0-6) in the only regular season meeting between the two teams. Tipoff is set for 6:01 p.m. (CT) at the Rutgers Athletic Center.