January 27, 2016
THIS WEEK FOR THE HAWKEYES
The University of Iowa women's tennis team opens the 2016 season against Missouri State on Saturday at 10 a.m. and 2 p.m. (CT) inside the Hawkeye Tennis and Recreation Complex. Admission is free to the public.
TAKING ON THE BEARS
The Hawkeyes are 2-0 against Missouri State. Iowa last faced the Bears in the 2005-06 season, winning 7-0 and going 18-6 on the season under then head coach Daryl Greenan.
DOUGHERTY IN SEASON OPENERS
Head coach Katie Dougherty is 5-1 in season openers during her time as UI head women's tennis coach. Dougherty and the Hawkeyes have won five straight season openers, with the only loss to Notre Dame during her first season. This will be the first time in her career that the Hawkeyes face Missouri State in their home opener.
DOHANICS 3-0 IN SEASON OPENERS
Annette Dohanics has a perfect singles record when it comes to season openers. She will conclude her fourth and final season opener on Saturday. Entering her final season with the Hawkeyes, Dohanics has an overall singles record of 41-27 in dual and tournament matches.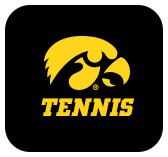 HAWKEYE NEWCOMERS
The University of Iowa women's tennis program welcomes four freshmen and one transfer to the team. The freshmen include Adorabol Huckleby, Carin Runefelt, Taylor Tamblyn and Kristen Thoms. Prior to joining the Hawkeyes, Huckleby was the No. 2 ranked prospect in the state of Michigan, and was a singles champion at the USTA Girls 16's Regionals. Runefelt, from Stockholm, Sweden, won the Regional Championships from U16 in doubles and placed runner up in singles competition. Tamblyn was a four-time all-state and all-conference team member in high school. Thoms was a five-star recruit and ranked as high as No. 44 in 2015 recruiting class. Natalie Looney joined the Hawkeyes as a junior transfer from South Carolina. Looney, a native of Overland Park, Kansas, was ranked in the top 100 in her national recruiting class and led St. Thomas Aquinas to its first ever team title.
BECOME A FAN
Fans can follow the Iowa women's tennis team at facebook.com and via twitter @Iowa_Tennis. Live results from this weekend are available on the Iowa women's tennis schedule page at hawkeyesports.com.