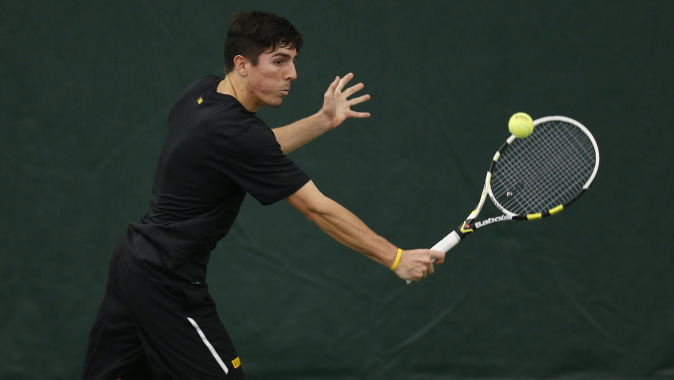 Jan. 27, 2016
Full Release

THIS WEEK:
The University of Iowa men's tennis team travels to the East Coast this weekend for the Big Ten-Ivy League Challenge. The Hawkeyes will start in Flushing, New York at the National Tennis Center against No. 34 Princeton on Saturday at 3:30 p.m. (EST). Iowa will have a quick turn-around as they are slated to take on No. 47 Cornell in Princeton, New Jersey at 12 p.m. (EST) at the Jadwin Gym on Sunday.
HAWKEYES RISING:
The University of Iowa Hawkeyes opened their season ranked No. 71 nationally. Their first meet of the season took place at home at the Hawkeye Tennis and Recreation Complex on Jan. 18 and pitted them against then No. 70 Utah State. The Hawkeyes swept the Aggies, only dropping one set in singles play, in the first meeting between the teams.
In the latest ITA rankings, Iowa rose seven spots to No. 64. The Hawkeyes were unranked at this time last year but reached a ranking as high as No. 45.
SCOUTING THE COMPETITION:
Iowa competed against the Cornell Bears last year during the Big Ten-Ivy League Challenge. The Bears dropped the Hawkeyes, 4-2.
The Bears are currently ranked No. 47 and return three of their top six from the squad that defeated the Hawkeyes last season: Bernardo Casares Rosa, Chris Vrabel, and Dylan Johnson. Vrabel is currently regionally ranked.
Last season, Iowa's Jake Jacoby defeated Brown, 6-4, 7-6(3), for the only Hawkeye singles win of the meet.
Cornell defeated the University of Buffalo last Friday during their season opener, 4-3. They take on the University of North Florida on Thursday and face Michigan in their first match up of the Big Ten-Ivy League Challenge.
"Cornell is a team that makes a lot of balls. We just have to go out there and compete harder than we did last year," said senior Dominic Patrick.
"We blew a match point on doubles and it's just something that can't happen again this year because we lost a close match. All of their players, one through six, make a lot of balls so I think if we go there and do the same thing then we're going to have a good shot."
The Hawkeyes will face Princeton for the first time since 1991. In their last meeting, Iowa fell to the Tigers, 6-3. Princeton is ranked No. 34 nationally and junior Alex Day is ranked No. 98 regionally.
The Tigers open their season today in Madison, Wisconsin and pair up against the Michigan Wolverines to kick off the Big Ten-Ivy League Challenge.
HEAD COACH ROSS WILSON ON WEEKEND ACTION:
"This will be a big weekend for us, a good test. Princeton made the NCAA Tournament last year and is coming in ranked No. 34 in the country and Cornell is top 50 and is almost always in the tournament. It's going to be good to have our guys play against some top competition and see where we're at."
FOLLOW THE HAWKEYES:
Fans can follow the Hawkeyes all season long and receive live match updates on Facebook (facebook.con/IowaMensTennis) and on Twitter (@IowaMensTennis). Fans can also get a behind the scene look on Snapchat (uiowamenstennis).