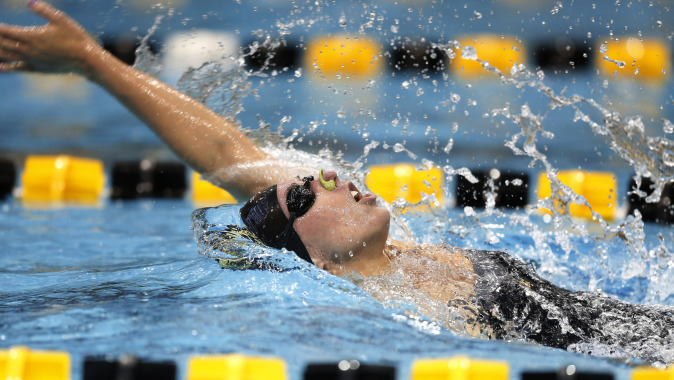 Jan 28, 2016
Notes

THIS WEEK
The University of Iowa women's swimming and diving team travels to South Bend, Indiana, for the Shamrock Invitational on Friday and Saturday. Competition starts at 4 p.m. (CT) on Friday.
LIVE RESULTS
Up-to-date results will be available on http://www.und.com/livestats/m-swim/012916/index.htm. Fans can also follow the meet via Twitter by following @IowaSwimDive.
HAWKEYES TALLY 5TH DUAL WIN
Iowa won 11 events in its 174.5-125.5 victory over Illinois on Jan. 16 at the Campus Recreation and Wellness Center Natatorium. The victory was Iowa's fifth of the season and second in Big Ten action.
BYE-BYE BEYER POOL RECORDS
The Hawkeyes swam to seven pool records in its sixth straight Iowa Corn Cy-Hawk Series victory over Iowa State on Dec. 11. The 200-medley relay consisting of Allie Orvis, Emma Sougstad, Kelly McNamara, and Olivia Kabacinski swam to a pool record of 1:40.29, Kabacinski also swam to a record in the 100 free (50.01), Sougstad set three records in the 100 breast (1:00.50), 200 breast (2:12.95), and 200 IM (2:01.39), and Teyesa Lehnertz had a top time in the 200-fly (1:59.22). The final record came in the 400-free relay when Meghan Lavelle, Jennifer Weigand, Carly O'Brien, and Kabacinski touched in 3:22.84.
NCAA "B" QUALIFIERS ARE EVERYWHERE
Iowa has posted 12 NCAA "B" cuts during the 2015-16 season. Below is a rundown of the Hawkeyes' performances:
50 Free: Emma Sougstad (22.63), Olivia Kabacinski (22.70)
100 Free: Olivia Kabacinski (49.97)
100 Back: Meghan Lavelle (54.14)
200 Back Meghan Lavelle (1:58.23)
100 Breast: Emma Sougstad (1:00.23), Shea Hoyt (1:02.33)
200 Breast: Emma Sougstad (2:12.95), Colleen Champa (2:15.13)
200 IM: Emma Sougstad (1:59.05)
100 Fly: Kelly McNamara (53.90)
200 Fly: Tereysa Lehnertz (1:59.22)
COLLEGESWIMMING.COM HONORS 2 HAWKEYES
Junior Emma Sougstad and senior Olivia Kabacinski were honored as TeamUnify/CollegeSwimming.com Swimmers of the Week on Dec. 15. Sougstad was named the Division I Women's Swimmer of the Week after finishing first in four events in the Iowa Corn Cy-Hawk Series victory at Iowa State. Kabacinski was tabbed as CollegeSwimming.com's Big Ten Swimmer of the Week after helping two relays to victories against the Cyclones and finishing first in two individual events.
UNDEFEATED 200-MEDLEY
The Hawkeyes have gone undefeated in the 200-medley relay so far this season. The top time of the season came at the Hawkeye Invitational with the quartet of Allie Orvis, Emma Sougstad, Kelly McNamara, and Olivia Kabacinski swimming to a time of 1:39.47.
B1G SWEEP
The Hawkeyes swept the Big Ten Conference weekly honors Dec. 16 following its 198-101 Iowa Corn Cy-Hawk Series victory at Iowa State. Junior Emma Sougstad was the Swimmer of the Week after swimming to four first place finishes and setting four pool records, sophomore Morgan Rafferty was the Diver of the Week after tallying a pair of top two finishes and posting two NCAA Zone Diving scores, and Abbey Schneider was the Freshman of the Week after winning the 500 and 1,000 freestyle events.
SOUGSTAD SWIMS TO 3 SCHOOL RECORDS
Junior Emma Sougstad swam to three school records during the 2015 Hawkeye Invitational. The Forest City, Iowa, native was a member of the record-setting 400-free and 400-medley relays. Sougstad teamed with Olivia Kabacinski,Nikol Lagodzinska, and Carly O'Brien to set the 400-free relay record with a time of 3:20.58. In the medley, Sougstad swam the breaststroke leg, while teaming with Meghan Lavelle, Kelly McNamara, and Kabacinski. The quartet finished with a time of 3:38.62. Individually, Sougstad swam to the school's top time in the 50 free, leading off the 200-free relay with a time of 22.63 seconds.
FLYING INTO THE SCHOOL RECORD
Freshman Kelly McNamara has burst on to the scene in the butterfly events for the Hawkeyes. The Villa Park, Illinois, native has held the top time in the 100-fly all season. At the Hawkeye Invitational, McNamara shattered the 100-fly school record, finishing with a time of 53.90.
HOW FAR CAN SHE GO?
Freshman Abbey Schneider is off to a strong start in her first season as a Hawkeye, leading the Hawkeyes in distance events. The Indiana native holds season-best times in the 1,000 (10:03.34) and 1,650 (16:48.14). She broke five minutes, swimming a time of 4:59.50 in the 500 free against Purdue on Nov. 6.
OFF TO A FAST START
Senior Olivia Kabacinski has sprinted her way to the team's top times in the 100 (50.15) and 200 free (1:48.14) this season. Kabacinski had a field day in the Dec. 6 Hawkeye Invitational, swimming to five first place finishes — four relays and one individual events. She also swam to a pair of runner-up finishes.
RETURNING NCAA QUALIFIER
Junior Emma Sougstad returns as the leader of the program after qualifying for the NCAA Championships in three events as a sophomore. The Forest City, Iowa, native holds school records in the 100 breast (59.96), 200 breast (2:11.20), 200 IM (1:58.74), 200-free relay (1:30.96), 200-medley relay (1:39.18), and 400-medley relay (3:38.68).
PERFORMING ON THE PLATFORM
Senior Calli Head posted a runner-up finish on the platform at the 2015 Hawkeye Invitational, diving to an NCAA Zone Diving standard of 270.00. Junior Lydia Lehnert also posted a NCAA Zone diving score of 256.90 during the meet. It was Iowa's first platform competition of the 2015-16 season.
IOWA ADDS 7 FOR 2016-17
Iowa signed seven high school preps to National Letters of Intent for the 2016-17 season. The class consists of Amelia Armstong-Grant (Ypsilanti, Michigan), Hannah Burvill (Pyrford, Great Britain), Olivia Dopkiss (Rockford, Mich.), Allyssa Fluit (Pleasant Hill, Iowa), Meghan Hackett (Cedar Falls, Iowa), Amy Lenderink (Parker, Colo.), and Samantha Sauer (St. Charles, Ill.).
CAMPUS RECREATION AND WELLNESS CENTER
Ground was broken for the Campus Recreation and Wellness Center in October 2007. The facility opened in August 2010 and is home for the Hawkeyes. It is located at the corner of Burlington and Madison streets and cost approximately $69 million. The facility includes a 50-meter competition pool, a separate diving well, a leisure pool with lap lanes and 24,000 square feet of fitness space.
IOWA SWIMMING AND DIVING TRADITION
Iowa was one of the first schools in the nation to compete on a collegiate level and competed at the first NCAA Championship. From 1937 to 1960, Iowa placed in the NCAA top 10 18 times, crowning nine NCAA and 22 Big Ten champions.
ON THE HORIZON
The Hawkeyes will host Western Illinois in their final home dual of the season on Feb. 5 at the CRWC Natatorium. Action is set to begin at 6 p.m. (CT).