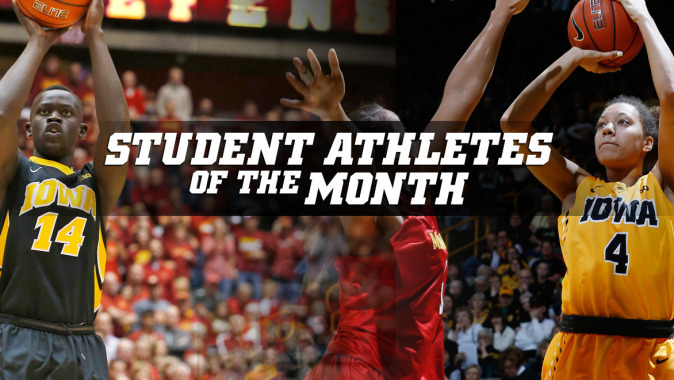 Feb. 8, 2016
IOWA CITY, Iowa — The University of Iowa's Student-Athlete Academic Services has recognized junior Peter Jok and sophomore Chase Coley as January's male and female Student-Athletes of the Month.
Voted on by their peers, this honor recognizes those student-athletes who have excelled not only in their sport, but in the classroom as well.
Jok helped lead Iowa to a 7-1 record during the month of January and vault the Hawkeyes as high as third in the weekly national rankings — its highest ranking since 1987. The seven wins are the most in the month of January for an Iowa team since the 1986-87 season.
The West Des Moines, Iowa, native scored 23 points or more three times during the month of January, averaging 17.5 points, 3.9 rebounds, and a team-best 1.6 steals in eight games. Jok was named Big Ten Player of the Week on Jan. 18 after averaging 19.5 points in wins at nationally-ranked Michigan State (23 points) and at home versus Michigan (16 points). Iowa's win at Michigan State was its first since 1993.
Jok equaled a career best with five 3-pointers made on his way to a career-high 29 points at Rutgers on Jan. 21. Jok's 29 points against the Scarlet Knights ties for seventh most by a Hawkeye during the Fran McCaffery era.
Coley compiled a .589 field goal percentage in the month of January to pace the Hawkeyes offensively. The center/forward averaged 11.7 points, 4.7 rebounds, and 1.0 steal per game in the team's nine games played.
The Minneapolis, Minnesota, native was named to the Big Ten Player of the Week Honor Roll for the first time in her career on Feb. 1 after leading the Hawkeyes to a pair of victories against Michigan State on Jan. 28 and at Northwestern on Jan. 31. Coley, who successfully transitioned to the power forward position in late January, led the team in points scored in each contest, netting 21 against the Wolverines and 19 against the Wildcats.
On the season, Coley is averages 11.0 points and 5.5 rebounds per game and owns a team-best .547 field goal percentage. She has appeared in all 24 games with 23 starts.
Coley also spent time in the community, interacting with students at Hills Elementary in January. She and her Hawkeye teammates have been visiting local elementary schools to talk about the importance of good sportsmanship, maintaining integrity, having a positive attitude in all areas of life and more.