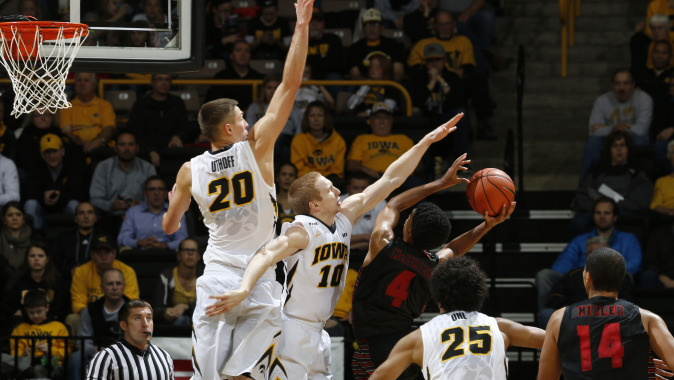 Feb. 11, 2016
BLOOMONGTON, Indiana — University of Iowa graduate men's basketball student-athletes Mike Gesell and Jarrod Uthoff have been named Academic All-District first team honorees for their combined performance athletically and in the classroom. The Hawkeye duo will advance to the Academic All-America Team ballot, where first-, second-, and third-team All-America honorees will be selected later this month.
It marks the second straight year that Gesell and Uthoff earned the academic all-district distinction.
Gesell, a native of South Sioux City, Nebraska, garnered a cumulative grade point average of 4.11 this past fall taking leisure studies graduate classes after earning a finance degree in May 2015. The team co-captain ranks 18th nationally in assists (6.0) and is 39th in assist-to-turnover ratio (2.8). Gesell is averaging career bests in rebounds (3.4), assists (6.0), field goal percentage (.422), and 3-point accuracy (.367). Gesell enters tonight's contest against Indiana two points from career point No. 1,000. Gesell is also one of 30 candidates for the 2016 Senior CLASS Award. An acronym for Celebrating Loyalty and Achievement for Staying in School, the CLASS Award focuses on the total student-athlete and encourages students to use their platform in athletics to make a positive impact as leaders in their community.
Uthoff, a native of Cedar Rapids, Iowa, posted a 4.00 cumulative grade point average last semester taking leisure studies graduate classes after earning his degree in economics in May 2015. Uthoff has scored in double figures in all but one game this season, including netting 20 points or more 11 times. The team co-captain leads the Big Ten in blocked shots (2.9) and is third in scoring (18.4). He became the third Hawkeye in school history to amass 1,000 points and 150 blocks in a career (Acie Earl and Greg Stokes). Uthoff is the second player nationally the last 20 years to average two blocks and two 3-pointers per game (Duke's Shane Battier in 2000-01).
Iowa (19-4, 10-1) returns to action tonight when it plays at Indiana (19-5, 9-2). Tipoff is set for 8:05 p.m. (CT) at Assembly Hall in Bloomington, Indiana.