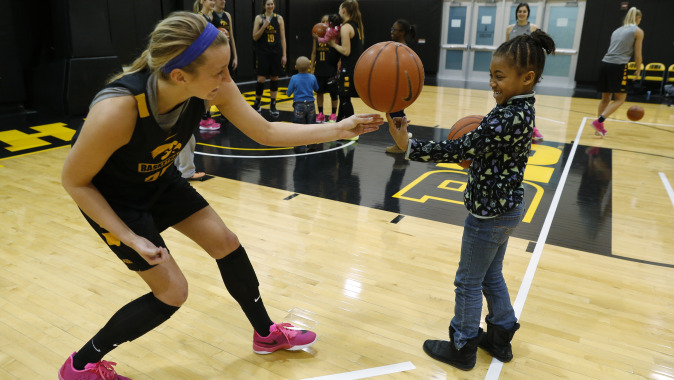 Feb. 18, 2016
Editor's Note: The following first appeared in the University of Iowa's Hawk Talk Daily, an e-newsletter that offers a daily look at the Iowa Hawkeyes, delivered free each morning to thousands of fans of the Hawkeyes worldwide. To receive daily news from the Iowa Hawkeyes, sign up HERE.
By JIL PRICE
IOWA CITY, Iowa — Amidst navigating a difficult Big Ten Conference slate and fighting to earn its ninth consecutive NCAA Tournament berth, the University of Iowa women's basketball team continues to have a presence in the local community.
The Hawkeyes make time each week in their demanding basketball and school schedules to visit the students at local elementary schools, at times on mornings after late games on the road. The student-athletes meet and interact with students in pairs, encouraging them to work hard, be dedicated, and have fun not only in the athletic arena, but also in school and other areas of their lives.
"It's a good feeling," sophomore center Chase Coley said. "I remember growing up looking up to athletes and wanting to be like them one day. They were my heroes.
"Now being in those shoes, I want to set the best example I can for those kids. It makes me happy to know that us going there has such a positive impact on them."
The students keep the Hawkeyes on their toes, asking questions about what their lives are really like on and off the court.
"They get to ask us a lot of questions, and they're funny," Coley said. "The funniest question I got was, 'What is your favorite month?' I've never really thought of it until they asked.
"You can tell it makes their day when we come to see them, and we enjoy it too."
In addition to visiting area elementary students each week, the Hawkeyes also welcomed individuals from The Shelter House in Iowa City into their practice on Feb. 13. The Shelter House is an organization that provides safe shelter and helps people improve the quality of their lives as they move beyond homelessness.
Members of the group were able to watch a segment of Iowa's practice, play basketball with the Hawkeyes, and share a meal with the team and coaching staff.
It was a rewarding experience for everyone involved and hit close to home for Iowa City, Iowa, native Ally Disterhoft.
"I feel fortunate to be able to give back just a portion of what the university has given me," Disterhoft said. "I grew up in Iowa City and know what it's like to look up to the women's basketball players. To be in this position and be able to bring a smile to kids' faces is a neat experience.
"Seeing the Shelter House kids' joy doing something simple like playing basketball with us and having a meal is awesome. They appreciate the time we spend with them and it's neat for us to get to know them."
The Hawkeyes begin a two-game home stand tonight against Purdue at 7 p.m. (CT). Iowa faces Indiana on Sunday at 2 p.m. in its annual Pink Game.