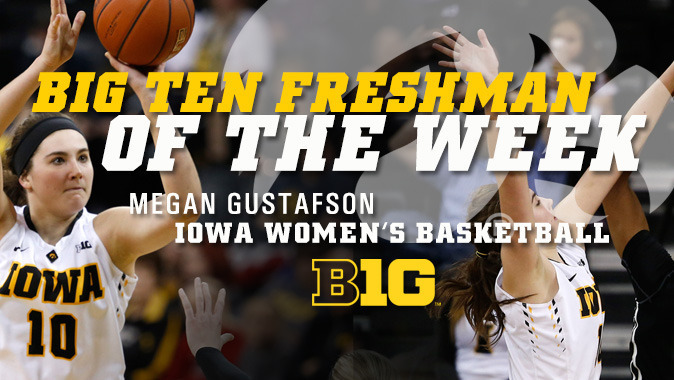 Feb. 22, 2016
IOWA CITY, Iowa — University of Iowa center Megan Gustafson earned Big Ten Freshman of the Week recognition, the league office announced Monday. It is the first conference honor of her career and first freshman of the week accolade for Iowa since Feb. 28, 2012 (Samantha Logic).
Gustafson averaged a double-double with 14 points and 10.7 rebounds per game to guide Iowa to a 2-1 record last week. She shot .563 from the field and averaged 3.3 blocks per contest in the three-game stretch.
The Port Wing, Wisconsin, native recorded a career-high 19 rebounds at Minnesota on Feb. 15, the highest rebounding total in a single game in Iowa women's basketball history since Feb. 16 2012, when Logic pulled down 18 boards at Michigan. Gustafson added 14 points, netting 6-of-12 field goal attempts, to secure her fifth career double-double in a six-game stretch.
Gustafson followed it up with 18 points and led the team for the seventh straight game with seven rebounds against Purdue on Feb. 18. She also recorded a team-high four blocks and shot .778 from the field to lead the Hawkeyes.
In Iowa's third game in seven days, Gustafson posted 10 points to reach double figures for the fourth consecutive game and six boards against Indiana on Feb. 21. The 6-foot-3 center also added a team-high four blocks to help the Hawkeyes win their second straight Big Ten game.
Gustafson leads Big Ten freshmen with 50 blocks this season, which is the third-highest total among all freshmen in Iowa history. She has posted three or more blocks in nine of 28 games this season and owns the sixth-highest rebound total for a freshman in program history (177).
On the season, Gustafson leads the Hawkeyes with 6.3 rebounds and 1.8 blocks per game. She is third offensively, averaging 9.5 points per contest this year. Gustafson has appeared in every game of her career with nine consecutive starts.
The Hawkeyes hit the road for a midweek game at Penn State on Wednesday at 6 p.m. (CT). Iowa returns home to conclude the regular season on Saturday against Illinois at 5 p.m. It will be Senior Day for Kali Peschel, Nicole Smith, and Claire Till.