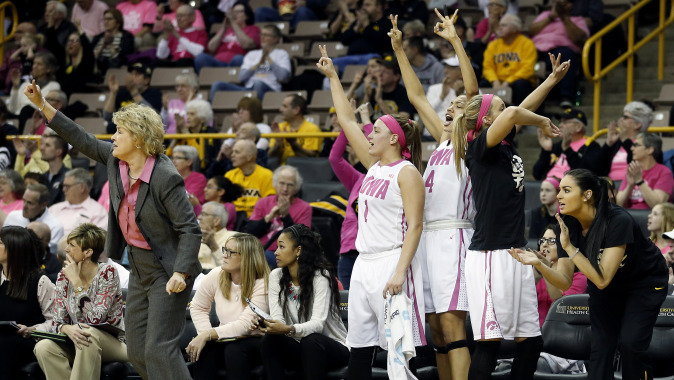 Feb. 22, 2016
Game Notes – at Penn State

THE SETTING
The University of Iowa women's basketball team plays its final regular season road game of the season at Penn State on Wednesday, Feb. 24. Tipoff is set for 6 p.m. (CT).
GAME COVERAGE
? Fans can watch the game live online on BTN Plus available at btn2go.com.
? Audio of the contest is available on select Hawkeye Radio Network affiliate stations and on Hawkeye All-Access available at hawkeyesports.com. Brent Balbinot and Stacy Schlapkohl will call the action.
? Balbinot is in his 12th year as Iowa's play-by-play voice, while Schlapkohl is in her first providing analysis.
? Schlapkohl, who played in 104 games with 49 starts from 2004-08, helped Iowa to three NCAA Tournaments. She scored in double figures in 22 games.
? Links to video, audio, and Gametracker (live stats) are available on the women's basketball schedule page at hawkeyesports.com.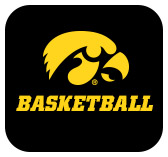 1ST TIME FRESHMAN OF THE WEEK
? Megan Gustafson earned Big Ten Freshman of the Week recognition on Feb. 22. It is the first conference honor of her career and first freshman of the week accolade for Iowa since Feb. 28, 2012 (Samantha Logic).
? The center averaged a double-double with 14 points and 10.7 rebounds per game to guide Iowa to a 2-1 record. She shot .563 from the field and averaged 3.3 blocks per contest in the three-game stretch.
? Gustafson recorded a career-high 19 rebounds at Minnesota on Feb. 15, the highest rebounding total in a single game in Iowa women's basketball history since Feb. 16 2012 (Samantha Logic, 18 rebounds, at Michigan). She added 14 points, netting 6-of-12 field goal attempts, to secure her fifth career double-double in a six-game stretch.
? The Port Wing, Wisconsin, native poured in 18 points and led the team for the seventh straight game with seven rebounds against Purdue on Feb. 18. She also recorded a team-high four blocks and shot .778 from the field to lead the Hawkeyes to victory.
? In Iowa's third game in seven days, Gustafson posted 10 points to reach double figures for the fourth consecutive game and six boards against Indiana on Feb. 21. The 6-foot-3 center also added a team-high four blocks to help the Hawkeyes win their second straight Big Ten game.
? Gustafson leads Big Ten freshmen with 50 blocks this season, which is the third-highest total among all freshmen in Iowa history. She has posted three or more blocks in nine of 28 games this season and owns the sixth-highest rebound total for a freshman in program history (177).
? On the season, Gustafson leads the Hawkeyes with 6.3 rebounds and 1.8 blocks per game. She is third offensively, averaging 9.5 points per contest this year. Gustafson has appeared in every game of her career with nine consecutive starts.
IOWA SETTLES THE SCORE
? The Hawkeyes evened the conference series, 1-1, with Indiana on Sunday with a 76-73 victory over the Hoosiers inside Carver-Hawkeye Arena. Iowa has won 28 consecutive home games against Indiana.
? Five Hawkeyes netted double figures, including junior Ally Disterhoft (19), freshman Tania Davis (17), sophomore Chase Coley (10), freshman Megan Gustafson (10), and sophomore Whitney Jennings (10). It is the sixth time five players or more have reached double figures in a game this season for Iowa.
? Coley added 10 rebounds to record her fifth career double-double.
? Gustafson, who ended the game with a team-high four blocks, has recorded three or more shots in nine games this season.
SERIES HISTORY
? Penn State leads Iowa, 27-19, in the all-time series.
? The Nittany Lions won the first matchup of the season in Iowa City, 82-69, on Jan. 20.
? Iowa trails Penn State, 14-6, in games played in University Park, Pennsylvania. The Hawkeyes won the most recent road game of the series, 73-70, in 2013-14.
? In the Lisa Bluder era, the Nittany Lions lead the Hawkeyes, 14-11.
A LOOK AT THE LADY LIONS
? Penn State brings a 10-17 record overall and a 5-11 mark in Big Ten play in to the Wednesday matchup.
? As a team, Penn State averages 70.4 points and 36.6 rebounds per game.
? Three average double figures in scoring, including Teniya Page (15.6), Brianna Banks (13.6), and Lindsey Spann (13.1).
SEASON REWIND
? The Nittany Lions defeated the Hawkeyes in Iowa City, 82-69, on Jan. 20.
? Penn State shot 49 percent (28-57) from the field, 33 percent (5-15) from three-point range, and 87 percent (21-24) from the free throw line, while Iowa shot 35 percent (24-68) from the field, 16 percent (4-25) from three-point land, and 65 percent (17-26) from the charity stripe.
? Five players scored in double figures for Penn State, including Brianna Banks (16), Lindsey Spann (16), Teniya Page (14), and Peyton Whitted (14). Whitted recorded 10 rebounds for a double-double, while Spann dished out a team-high eight assists.
? Chase Coley led Iowa offensively with 16 points, followed by Ally Disterhoft (13) and Whitney Jennings (11). Disterhoft recorded a team-high seven rebounds, while Tania Davis distributed a team-high six assists.
FUN FACTS
? Iowa recorded its first victory without making a three-pointer (0-for-5) in 18 years against Purdue on Feb. 18. The last win in program history without a three-pointer was against Ohio State in the opening round of the Big Ten Tournament on Feb. 28, 1998. The Hawkeyes went 0-for-2 in three-point field goal attempts and recorded a 72-54 win.
? The Hawkeyes were a perfect 16-for-16 at the free throw line at Minnesota on Feb. 15. A perfect performance at the charity stripe has only happened six times in program history, most recently on Feb. 21, 2015 against Ohio State (13-for-13).
? Iowa is one of just two teams (Northwestern) to out-rebound Maryland this season. The Hawkeyes recorded 38 rebounds to the Terrapins' 37 on Jan. 10 inside Carver-Hawkeye Arena.
HAWKEYE FRESHMEN REPORT
? Freshman Megan Gustafson leads all Big Ten freshmen in blocks with 50 followed by Illinois' Alex Wittinger who has recorded 42 on the season. Gustafson is one of two freshmen to lead her team in blocks this year (Hallie Thome, Michigan – 33 blocks).
? Gustafson leads league freshmen in blocks per game (1.8), is second in rebounding (177), and fourth in scoring (267 points). She is one of two freshmen in the conference who lead their team in rebounds (Jessica Shepard, Nebraska – 235 rebounds).
? Gustafson has blocked three or more shots in nine of her 28 career games.
? Freshman Tania Davis is one of two Big Ten freshmen who lead their team in the assists category. She has distributed 89 this season, bested only by Penn State's Teniya Page (106).
? Davis is second among Big Ten freshmen in steals (28) behind Page (36) and sixth in scoring (234). She has dished out five or more assists in seven of her 28 games played.
BIG DIFFERENCE
? Since altering the lineup to include freshman Megan Gustafson and sophomore Chase Coley, the Hawkeyes have seen an increase in production offensively.
? In the last nine games, Iowa has had five players average double figures in scoring rather than three in the previous 19 games. Leading the pack is junior Ally Disterhoft (18.1), followed by Coley (13.9), Gustafson (11.8), freshman Tania Davis (11.8), and sophomore Whitney Jennings (10.7).
? The team has also increased its points per game average from 73.0 to 75.1.
? Gustafson has seen her rebounds per game average spike from 4.8 to 9.6 in the last eight games, while Coley has made the jump from 5.0 to 7.8.
? The 6-3 duo accounts for 48 percent of the team's rebounding effort and 34 percent of Iowa's offensive production.
LAST HURRAH
Iowa will play its final home game of the regular season on Saturday, Feb. 27 at 5 p.m. (CT). It is Senior Day for Kali Peschel, Nicole Smith, and Claire Till.