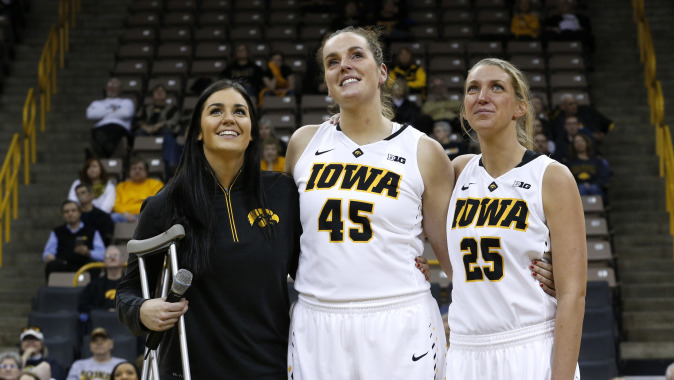 Feb. 28, 2016
Editor's Note: The following first appeared in the University of Iowa's Hawk Talk Daily, an e-newsletter that offers a daily look at the Iowa Hawkeyes, delivered free each morning to thousands of fans of the Hawkeyes worldwide. To receive daily news from the Iowa Hawkeyes, sign up HERE.
By JIL PRICE
IOWA CITY, Iowa — Kali Peschel, Nicole Smith, and Claire Till wore Black and Gold for the final time with their University of Iowa women's basketball teammates inside Carver-Hawkeye Arena on Saturday night against Illinois.
Each senior had the opportunity to address the crowd of Hawkeye fans after the game to share their fondest memories, before gathering for a postgame celebration dessert with staff, family, teammates, and supporters.
The trio may not have been as athletically decorated as senior classes that came before them, but they each found ways to contribute and their presence and personalities will be greatly missed on and off the court.
"This is an unusual group three seniors because their careers haven't been a storybook," said UI head coach Lisa Bluder.
Till, who was born and raised a Hawkeye, fulfilled her dream of playing basketball at Iowa. She battled adversity, experiencing injuries throughout her career, but always brought fire on the court. The Dubuque, Iowa, native had her career cut short this season, as she underwent knee surgery on Feb. 22.
"Claire Till was so excited to come here and be a Hawkeye," said Bluder. "She grew up in this state and she grew up a Hawkeye.
"You don't like to see anyone's career go like Claire's has. She ended her high school career with the same surgery she had this week at the University of Iowa. Not the career she wanted, but when she was healthy she provided us a physical force. She was a terrific rebounder and everyone could see when she walked out on the court she brought the attitude and moxy we needed."
Smith had a similar story, as she too fought through injuries throughout her career. She has had six knee surgeries, but was able to put the team first. The Rockton, Illinois, native has been a mentor for Iowa's post duo of sophomore Chase Coley and Megan Gustafson. Smith pushing them in practice has contributed to their success.
"Nicole has been hampered throughout her career with knee issues and never got on a roll," Bluder said. "She has provided so much for us in practice and those are the types of players that are real heroes. They're the ones that do all the work in practice and never get one bit of the glory. That has been Nicole's career.
"She has tried to make everyone around her better, and has verbalized that. She says, 'My job is to come here and make Megan and Chase the best players they can be.' That's one of the most selfless attitudes anyone could have. Nicole works hard every day to improve those players, and for that, I can't thank her enough."
Peschel has also experienced ups and downs in her career. She earned and lost starting positions in each of the last three years, but her positivity and leadership abilities never waned. The Sauk Centre, Minnesota, native is someone her Hawkeye teammates look up to.
"Kali has had that up and down career as well," Bluder said. "The last three years she has been in the starting lineup and all three years she has come out of the starting lineup. A lot of kids would buckle in that situation.
"She's still a great leader on our team. She's somebody the kids look up to, is a verbal leader, and is someone who works hard every single day. Obviously, we're counting on her this year and she has had the ability to come off the bench and do some great things for us."
The 2016 senior class and the Hawkeyes head to Indianapolis next week to compete in the Big Ten Tournament at Bankers Life Fieldhouse from March 2-6.