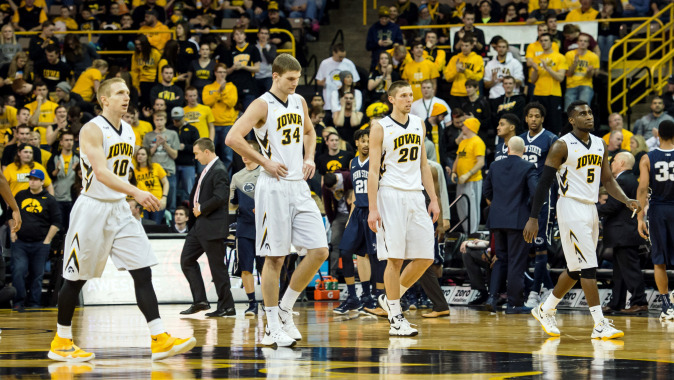 Feb. 29, 2016
By JAMES ALLAN
hawkeyesports.com
IOWA CITY, Iowa — Tuesday's regular-season home finale is nothing more than the next game on the schedule for University of Iowa head men's basketball coach Fran McCaffery.
The No. 15/16 Hawkeyes host No. 11/12 Indiana at 8:05 p.m. (CT) on Senior Night on Mediacom Court inside Carver-Hawkeye Arena. It is the final home game for seniors Mike Gesell, Adam Woodbury, Anthony Clemmons, Jarrod Uthoff, and walk-on Okey Ukah.
"I don't get into the emotional side of it," McCaffery said Monday during a media teleconference. "I won't even bring it up the fact that it's Senior Night. We're going to try to beat one of the best teams in the country. Hopefully we'll have them ready and they'll play well."
The game comes just 53 hours after its last game — a 68-64 road loss at Ohio State. It was Iowa's third straight loss and fourth in five games.
"If you win, (the turnaround) is a good thing; if you lose, it is a bad thing," said McCaffery. "We play the games as they're scheduled. We don't think about it one way or another.
"It wasn't that long ago we played (Indiana). We had a good game against them, but they out-played us. Hopefully we'll do a better job this time."
Indiana handed Iowa its second Big Ten Conference defeat by the score of 85-78 on Feb. 11 at Assembly Hall. The Hoosiers led by as many as 16 points in the first half; the Hawkeyes rallied to take a four point lead with 9:35 remaining before Indiana took control.
Iowa and Indiana have split the last 10 meetings in the series, and Iowa is 19-10 against the Hoosiers in Carver-Hawkeye Arena. The Hawkeyes have won seven of the last nine meetings in Iowa City; Indiana's last visit to Carver-Hawkeye Arena was Dec. 31, 2012 — a 69-65 Hoosier victory.
It was the first Big Ten game for Clemmons, Gesell, and Woodbury. Indiana is the only Big Ten Conference team the senior class hasn't defeated on Mediacom Court.
For as much as McCaffery sidesteps the emotional side of Senior Day, it doesn't lessen his admiration for the senior class. The group has 87 wins, advanced to two NCAA Tournaments, and posted an NIT runner-up finish during their career, while being model student-athletes.
"(Their character) typifies our ability to have success," said McCaffery. "What is character? It means you're going to be a great teammate, be coachable, a worker, and work year-round. You take care of your business off the court and academically, and you're going to be respectful and represent your family and institution the right way when people approach you.
"If you were to give these guys a set of guidelines of how to act when they get here, this would be the blueprint of what you use… these four guys."
Standing room only tickets for Tuesday's game remain via the UI Athletics Ticket Office by calling 800-IA-HAWKS or online at hawkeyesports.com. Senior Night festivities will take place prior to the game.