March 5, 2016
Photo Gallery

| Session II Brackets

IOWA CITY, Iowa — Four University of Iowa wrestlers won semifinal matches Saturday to advance to the finals of the Big Ten Championships on Sunday at Carver-Hawkeye Arena.
Cory Clark (133), Brandon Sorensen (149), Sammy Brooks (184), and Nathan Burak (197) wrestle for conference titles beginning at 3:10 p.m. (CT) live on BTN. Sorensen is competing in the finals for the second year in a row. Clark, Brooks, and Burak are making their first career Big Ten finals appearance.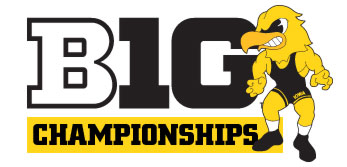 Iowa has five wrestlers competing on the back side of the bracket. Thomas Gilman (125), Edwin Cooper, Jr. (157), and Alex Meyer (174) fell into the consolation bracket with semifinal defeats. Patrick Rhoads (165) and Sam Stoll (285) wrestle for seventh place in their respective brackets. Both wrestlers were 2-2 on the day.
"There's a lot to digest right now, we're getting ready to go tomorrow," said UI head coach Tom Brands. "We have some guys in seventh-place matches, we have Gilman, Meyer, and Cooper for third, and then we have four in the finals. Brooks and Sorensen had solid wins. We have another day of wrestling, that's how we're looking right now."
Clark, Sorensen, and Burak all face top seeds in the finals. Clark, the No. 2 seed, faces Illinois' Zane Richards, who handed Clark his only defeat of the season, 5-3 in sudden victory, on Jan. 8 in Champaign, Illinois. He is 2-2 all-time against Richards.
Sorensen, the No. 2 seed, draws top-seeded Zain Retherford of Penn State. The two have never met and are a combined 53-0 this season, splitting the top two spots in a number of national rankings.
Third-seeded Burak faces Penn State's Morgan McIntosh, who is 27-0 this season and undefeated in four career meeting against Burak.
Brooks, the No. 3 seed, has a chance to redeem a loss from earlier this year against Nebraska's T.J. Dudley. Dudley pinned Brooks at Nebraska on Jan. 24. The wrestlers are 1-1 all-time in their college careers.
The Hawkeyes are in second place after Session II with 106 points. Penn State leads the team race with 133 points. Ohio State (100), Nebraska (97.5), and Rutgers (90.5) round out the top five.
Session III begins at 12 p.m. (CT) at Carver-Hawkeye Arena. BTN2GO will stream the consolation rounds.
SEMIFINAL RESULTS
125 – #3 Nico Megaludis (PSU) dec. #2 Thomas Gilman (IA), 4-3 SV
133 – #2 Cory Clark (IA) dec. #6 Ryan Taylor (WIS), 10-7
149 – #2 Brandon Sorensen (IA) dec. #3 Jake Sueflohn (NEB), 5-2
157 – #1 Jason Nolf (PSU) tech. fall #5 Edwin Cooper, Jr. (IA), 21-3
174 – #3 Zach Brunson (ILL) pinned #2 Alex Meyer (IA), 1:01
184 – #3 Sammy Brooks (IA) dec. #2 Matt McCutcheon (PSU), 6-1
197 – #3 Nathan Burak (IA) dec. #2 Brett Pfarr (MINN), 3-1 SV
CONSOLATION RESULTS
141 — #2 Tommy Thorn (MINN) dec. Brody Grothus (IA), 7-5
165 – #8 Patrick Rhoads (IA) major dec. Brandon Krone (MINN), 15-7
165 – #5 Chad Welch (PUR) dec. #8 Patrick Rhoads (IA), 2-0
285 – #3 Sam Stoll (IA) pinned Dimitrus Renfroe (MSU), 1:04
285 – #7 Brooks Black (ILL) dec. #3 Sam Stoll (IA), 3-0
CHAMPIONSHIP MATCHUPS
133 – #2 Cory Clark (IA) vs. #1 Zane Richards (ILL)
149 – #2 Brandon Sorensen (IA) vs. #1 Zain Retherford (PSU)
184 – #3 Sammy Brooks (IA) vs. #4 T.J. Dudley (NEB)
197 – #3 Nathan Burak (IA) vs. #1 Morgan McIntosh (PSU)
CONSOLATION MATCHUPS
125 – #2 Thomas Gilman (IA) vs. #5 Elijah Oliver (IND)
157 – #5 Edwin Cooper, Jr. (IA) vs. #3 Richie Lewis (RUT)
174 – #2 Alex Meyer (IA) vs. #5 Nate Jackson (IND)
SEVENTH-PLACE MATCHUPS
165 – #8 Patrick Rhoads (IA) vs. #7 Geno Morelli (PSU)
285 – #3 Sam Stoll (IA) vs. #4 Billy Smith (RUT)
TEAM SCORES
1. Penn State 133.0
2. Iowa 106.0
3. Ohio State 100.0
4. Nebraska 97.5
5. Rutgers 90.5
6. Illinois 78.5
7. Michigan 70.0
8. Wisconsin 53.0
9. Minnesota 38.0
10. Purdue 30.0
11. Indiana 26.0
12. Michigan State 10.5
13. Northwestern 8.0
14. Maryland 7.5
Attendance: 11,901