March 5, 2016
Session I Brackets

| Session I Photo Gallery

IOWA CITY, Iowa — The University of Iowa wrestling team advanced seven wrestlers to the semifinals of the 2016 Big Ten Championships on Saturday afternoon.
Thomas Gilman (125), Cory Clark (133), Brandon Sorensen (149), Edwin Cooper, Jr. (157), Alex Meyer (174), Sammy Brooks (184), and Nathan Burak (197) wrestle Saturday night for a chance to compete in the Big Ten finals Sunday afternoon.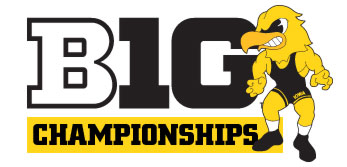 Iowa is in second place with 68 points following the quarterfinals. Penn State leads the team race with 74 points. Nebraska (63), Ohio State (43.5), and Illinois (41.5) round out the top five.
The Hawkeyes were 12-3 in the opening two rounds and won seven matches by bonus points, including pins by Cooper and Brooks, a technical fall by Burak, and major decisions by Gilman, Sorensen, Meyer, and Stoll.
Stoll won 15-4 in the opening round, but was bounced to the back side of the bracket with a loss in the quarterfinals. He is joined by Brody Grothus at 141, and Patrick Rhoads at 165.
All seven of Iowa's semifinalists have earned automatic berths to the NCAA Championships. The three Hawkeyes in the consolation round are two wins from securing an automatic berth.
"We have a lot of wrestling to go," said UI head coach Tom Brands. "We have a round coming up and we've got to keep it going and every round we have got to get tougher. That's been the philosophy for a long time, and as you get into the tournament you have to get tougher and our guys are doing a good job."
Session II begins at 6 p.m. (CT) at Carver-Hawkeye Arena. A round of consolations will precede the semifinals.
FIRST ROUND (#tournament seed)
141 – #1 Micah Jordan (OSU) dec. Brody Grothus (IA), 5-3
157 – #5 Edwin Cooper, Jr. (IA) pinned Anthony Petrone (NU), 1:26
165 – #8 Patrick Rhoads (IA) dec. Bryce Martin (IND), 2-1 (SV)
184 – #3 Sammy Brooks (IA) pinned Matt Irick (IND), 1:43
197 – #3 Nathan Burak (IA) tech. fall Eric Peissig (WIS), 22-5
285 – #3 Sam Stoll (IA) major dec. Youssif Hemida (MD), 15-4
QUARTERFINALS
125 – #2 Thomas Gilman (IA) major dec. #7 Conor Youtsey (MICH), 14-4
133 – #2 Cory Clark (IA) dec. #7 Johnny DiJulius (OSU), 7-3
149 – #2 Brandon Sorensen (IA) major dec. Cody Burcher (OSU), 12-2
157 – #5 Edwin Cooper Jr. (IA) dec. Jake Ryan (OSU), 2-1
165 – #1 Isaac Jordan (WIS) major dec. #8 Patrick Rhoads (IA), 11-3
174 – #2 Alex Meyer (IA) major dec. #7 Nick Wanzek (MINN), 16-0
184 – #3 Sammy Brooks (IA) dec. #6 Kenny Courts (OSU), 8-3
197 – #3 Nathan Burak (IA) dec. #6 Mark Martin (OSU), 6-2
285 – #6 Colin Jensen (NEB) major dec. #3 Sam Stoll (IA), 14-5
SEMIFINAL MATCHUPS
125 – #2 Thomas Gilman (IA) vs. #3 Nico Megaludis (PSU)
133 – #2 Cory Clark (IA) vs. #6 Ryan Taylor (WIS)
149 – #2 Brandon Sorensen (IA) vs. #3 Jake Sueflohn (NEB)
157 – #5 Edwin Cooper, Jr. (IA) vs. #1 Jason Nolf (PSU)
174 – #2 Alex Meyer (IA) vs. #3 Zach Brunson (ILL)
184 – #3 Sammy Brooks (IA) vs. #2 Matt McCutcheon (PSU)
197 – #3 Nathan Burak (IA) vs. #2 Brett Pfarr (MINN)
CONSOLATION MATCHUPS
141 — Brody Grothus (IA) vs. #2 Tommy Thorn (MINN)
165 – #8 Patrick Rhoads (IA) vs. Brandon Krone (MINN)
285 – #3 Sam Stoll (IA) vs. Dimitrus Renfroe (MSU)
TEAM STANDINGS
1. Penn State 74.0
2. Iowa 68.0
3. Nebraska 63.0
4. Ohio State 43.5
5. Illinois 41.5
5. Michigan 41.5
7. Rutgers 27.5
8. Minnesota 25.5
8. Wisconsin 25.5
10. Purdue 16.5
11. Indiana 10.5
11. Michigan State 10.5
13. Maryland 4.0
14. Northwestern 1.0
Attendance: 11,783