March 5, 2016
IOWA CITY, Iowa — The greatest wrestling venue in the country is hosting the NCAA's largest national qualifier this weekend when the Big Ten Conference Championships begin Saturday morning inside Carver-Hawkeye Arena.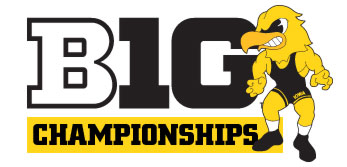 The Big Ten Championships is one of eight qualifying tournaments across the country, and the NCAA has awarded the conference 70 of its 284 automatic qualifying bids for the national tournament at Madison Square Garden from March 17-19.
One-hundred and forty wrestlers from 14 Big Ten institutions will compete for those 70 automatic berths during the two-day tournament. That same number of wrestlers will chase 10 conference gold medals, and that's the immediate prize from a Hawkeyes' perspective.
"It's a big deal being an individual champion," said UI head coach Tom Brands. "It is a catapult to what is next. It is a title that defines their career. We talk about the Midlands, Big Tens, and the national championship. That's what our guys are gearing for right now. This is it for this weekend. It is about this weekend, and this is a qualifier for what is next, which is also very relevant."
Carver-Hawkeye Arena is hosting the conference championship for the fourth time. Iowa won team titles in 1983 and 1994 and placed fourth in 2005. The 1983 team won a Big Ten record nine individual titles and set a record for largest margin of victory in a Big Ten Championships, defeating second-place Michigan State by 118.5 points.
Those records were set three months after Carver-Hawkeye Arena opened its doors for the first time. Thirty-three years later, the University of Iowa has established a reputation for being the home to both college and United States wrestling, breaking and owning every attendance record measurable.
"You know what we think of our fans, you know what I think of our fans. They are nothing but the best and top-notch," Brands said. "There is going to be a whole bunch of them and that will be important for energy. Wherever we go we're going to be ready, but being in your home arena is the time to put on a show."
Iowa shared the conference title with Ohio State last year in Columbus, Ohio, despite not crowing an individual champion. Five members of that 2015 championship team are back this season; five more Hawkeyes are making their Big Ten Championships debuts.
Brands said that tournament experience, or lack thereof, is helpful, but not a requisite.
"The biggest thing is from event to event throughout the year and knowing they have wrestled a lot of big matches in their careers. They have to be ready to go and they know that. We're as confident as we can be. It's time to let it fly."
Session I begins Saturday at 10 a.m. (CT). Session II begins Saturday at 6 p.m. Doors open 90 minutes prior to the start. Sunday's third session begins at noon and rolls into the finals, which air live on BTN at 3:10 p.m.