Photo Gallery 1

| Photo Gallery 2

March 6, 2016
Final Brackets

IOWA CITY, Iowa — University of Iowa juniors Sammy Brooks and Cory Clark were crowned Big Ten champions Sunday in front of 11,904 wrestling fans at Carver-Hawkeye Arena.
The Hawkeyes placed second in the Big Ten Championships team race with 127 points. Penn State won the title with 150.5 points. Ohio State (126), Nebraska (117), and Rutgers (106.5) rounded out the top five.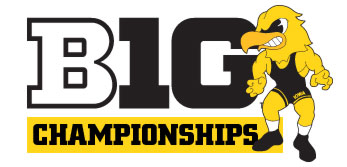 Clark upset top-seeded Zane Richards of Illinois, 2-1, at 133. The pair traded escapes in regulation, wrestled through a scoreless sudden victory, and finally determined a winner when Clark escaped in the first tiebreak break period. He rode Richards the final 30 seconds to seal the win.
"It's a unique feeling," Clark said. "The work that I've been putting in throughout the year, you start to feel it pay off. It feels like a relief a little bit, but the season isn't over yet.
"It's easier to move forward knowing that you're closer and you're in the right spot. It's easier, but at the same time, I have to move forward and work towards Madison Square Garden."
Brooks defeated fourth-ranked T.J. Dudley, 6-4, in the 184-pound finals to win his first Big Ten championship. He jumped in front 2-0 with a takedown two seconds before the first period whistle, and went in front 4-1 with a second period takedown. Dudley strung together an escape and takedown to narrow the gap, but a pair of Brooks' escapes settled the final score.
"Dudley is a good wrestler. He's an athletic and dangerous guy," Brooks said. "I had to be aware of that and know that. When I think I might have a takedown, I just need to go that extra step, get the takedown, secure it and secure it again. Just know that it's not going to be an easy takedown when you're wrestling a guy like that. Staying focused and keep staying on it."
Brooks and Clark became the first Iowa teammates to win Big Ten titles in the same year since Matt McDonough and Derek St. John in 2012. Iowa's 111 conference champions have combined for 197 titles.
"It's been a few years since we have had two champions. There was a drought, and getting two champions is a badge of honor. There is a tribute to those two guys," said UI head coach Tom Brands.
"It's an individual sport and that's how you go forward. We have to get ready for New York."
The Hawkeyes took home two silver and one bronze medal. Brandon Sorensen lost 4-0 in the 149-pound finals. Nathan Burak fell 3-2 in the 197-pound finals, and Thomas Gilman wrestled back from a semifinal defeat to earn third place with a pin and major decision on the back side of the bracket.
Edwin Cooper, Jr., (4th/157), Alex Meyer (5th/174), Patrick Rhoads (7th/165), and Sam Stoll (8th/285) also made the medal stand. All but Rhoads and Stoll placed high enough to earn an automatic berth to the NCAA tournament in New York City. Both wrestlers need at-large bids. Stoll is ranked fourth in RPI and sixth in the coaches poll, so a wild card is likely. Rhoads helped his cause with a win over Geno Morelli (Penn State) in the seventh place match. Morellis is ranked No. 9 in RPI.
"Patrick Rhoads certainly helped his cause," said Brands. "It was a big win for him, I think (Morelli) is a top 10 RPI guy, and Rhoads only loses are to top 10 guys. We're making a good case for them. It's in the committee's hands now."
The NCAA announces the tournament seeds Wednesday at 5 p.m. (CT). Individual qualifiers will be announced weight-by-weight beginning at 12 p.m. via NCAA social channels.
IOWA CHAMPIONSHIP RESULTS
133 – #2 Cory Clark (IA) dec. #1 Zane Richards (ILL), 2-1 (TB)
149 – #1 Zain Retherford dec. #2 Brandon Sorensen (IA), 4-0
184 – #3 Sammy Brooks (IA) dec. #4 T.J. Dudley (NEB), 6-4
197 – #1 Morgan McIntosh (PSU) dec. #3 Nathan Burak (IA), 3-2
THIRD PLACE RESULTS
125 – #2 Thomas Gilman (IA) major dec. #4 Tim Lambert (NEB), 12-4
157 – #6 Brian Murphy (MICH) dec. #5 Edwin Cooper, Jr. (IA), 2-1 (TB)
FIFTH PLACE RESULT
174 – #2 Alex Meyer (IA) dec. #6 Micah Barnes (NEB), 4-1
Attendance: 11,904… two-day attendance total was 35,588
TEAM SCORES
1. Penn State 150.5
2. Iowa 127.0
3. Ohio State 126.0
4. Nebraska 117.0
5. Rutgers 106.5
6. Michigan 89.5
7. Illinois 88.0
8. Wisconsin 67.5
9. Minnesota 51.5
10. Purdue 34.0
11. Indiana 30.5
12. Northwestern 11.5
13. Michigan State 10.5
14. Maryland 7.5