March 6, 2016 | PHOTO GALLERY
IOWA CITY, Iowa — Thomas Gilman and Edwin Cooper, Jr. won consolation semifinals bouts Sunday afternoon to advance to the Big Ten Championships consolation finals later today at Carver-Hawkeye Arena.
Gilman threw Indiana's Elijah Oliver to his back in the first period to earn his ninth fall of the season. He'll face Nebraska's Tim Lambert in the consolation finals. Gilman is 2-0 all-time against Lambert, including an 11-4 win earlier this year.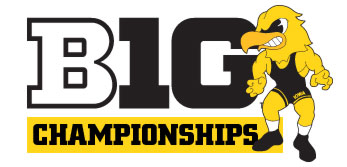 Cooper used a full-period ride in the second and escaped in the third to defeat Rutgers' Richie Lewis, 2-0. He will wrestle Michigan's Brian Murphy for third place. Cooper has never faced Murphy.
Alex Meyer will wrestle Nebraska's Micah Barnes for fifth place after dropping an 11-7 decision to Indiana's Nate Jackson in the consolation semifinals. Meyer won 2-0 against Barnes in their only previous meeting.
Senior Patrick Rhoads won his final match at Carver-Hawkeye Arena in the seventh place bout. Rhoads finished a single leg takedown midway through sudden victory to defeat Penn State's Geno Morelli, 4-2. Morelli is ranked ninth in the NCAA Coaches Poll.
"Last night I was lying in bed and thinking this is the last match you're ever going to have at Carver, you just need to put it all out there," Rhoads said. "I haven't had as much success as I wanted to have in my career, but to give the fans, family, friends and coaches a win is huge. I haven't been able to do that as much the last four years. It feels good to be able to give back."
The top six wrestlers earn automatic bids to the NCAA Championships, meaning Rhoads' postseason future is in the hands of the selection committee. He is 13-11 overall, but each loss is against an opponent ranked in the top 10 of the NCAA Coaches Poll.
Sam Stoll forfeited the 285-pound seventh place match. Iowa is in second place entering the final round of the conference tournament. Penn State leads the team race with 136.5 points, 20.5 points ahead of the Hawkeyes.
The finals begin at 3:10 p.m. live on BTN. Third and fifth place matches will be contested with each corresponding weight class.
CONSOLATION SEIMIFINAL RESULTS
125 – #2 Thomas Gilman (IA) pinned #5 Elijah Oliver (IND), 1:42
157 – #5 Edwin Cooper Jr. (IA) dec. #3 Richie Lewis (RUT), 2-0
174 – #5 Nate Jackson (IND), dec. #2 Alex Meyer (IA), 11-7
SEVENTH PLACE RESULTS
165 – #8 Patrick Rhoads (IA) dec. #7 Geno Morelli (PSU), 4-2 (SV)
285 – #4 Billy Smith (RUT) mff. #3 Sam Stoll (IA)
CHAMPIONSHIP MATCHUPS
133 – #2 Cory Clark (IA) vs. #1 Zane Richards (ILL)
149 – #2 Brandon Sorensen (IA) vs. #1 Zain Retherford (PSU)
184 – #3 Sammy Brooks (IA) vs. #4 T.J. Dudley (NEB)
197 – #3 Nathan Burak (IA) vs. #1 Morgan McIntosh (PSU)
THIRD PLACE MATCHUPS
125 – #2 Thomas Gilman (IA) vs. #4 Tim Lambert (NEB)
157 – #5 Edwin Cooper Jr. (IA) vs. #6 Brian Murphy (MICH)
FIFTH PLACE MATCHUP
174 – #2 Alex Meyer (IA) vs. #6 Micah Barnes (NEB)
TEAM SCORES
1. Penn State 136.5
2. Iowa 116.0
3. Nebraska 115.0
4. Ohio State 114.0
5. Rutgers 100.5
6. Michigan 82.5
7. Illinois 82.0
8. Wisconsin 62.5
9. Minnesota 49.5
10. Purdue 30.0
11. Indiana 29.5
12. Northwestern 11.5
13. Michigan State 10.5
14. Maryland 7.5