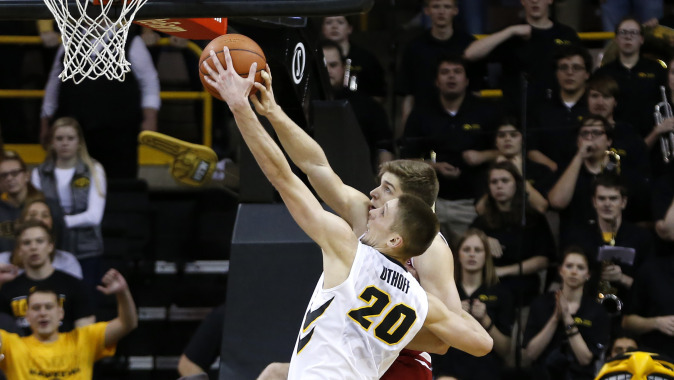 March 7, 2016
IOWA CITY, Iowa — University of Iowa men's basketball senior Jarrod Uthoff earned postseason recognition from a couple newspaper outlets Monday. Uthoff was named third-team All-America by USA Today, while also being named first team all-conference laurels by CBS Sports and the Associated Press. Uthoff was a unanimous selection by the Associated Press. CBS Sports and the Associated Press also tabbed Hawkeye junior Peter Jok on its All-Big Ten second team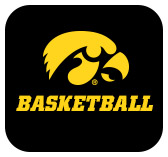 Uthoff, a native of Cedar Rapids, Iowa, ranks second in the Big Ten in scoring (18.8), first in blocked shots (2.7), and tied for 10th in rebounding (6.5). The forward ranks 20th in Iowa career scoring (1,238) and fourth in blocked shots (172). Uthoff (6-foot-9, 221 pounds) has scored in double figures in all but one game this season, including netting 20 points or more a team-best 14 times. The team co-captain is one of only three Hawkeyes in program history to amass 1,000 points and 150 blocks in a career (Acie Earl and Greg Stokes). He currently is one of only two players nationally to total more than 550 points, 190 rebounds, and 80 blocked shots (Stony Brook's Jameel Warney). Additionally, Uthoff is only the second player nationally the last 20 years to average two blocks and two 3-pointers per game (Duke's Shane Battier in 1999-00 and 2000-01).
Uthoff helped the Hawkeyes win 12 conference games for the second consecutive season — something that has happened only twice before in program history (1981-82 and 1987-88). Uthoff and the Hawkeyes have been nationally ranked the past 10 weeks, including ascending as high as No. 3 on Jan. 25 — their highest national ranking since 1987. Uthoff is also an outstanding student as well, being named the Division I Men's Basketball Academic All-American of the Year last week.
After averaging seven points per game a season ago, Jok (6-foot-6, 205 pounds) surged 8.8 points this year, averaging 15.8 points contest. The 8.8 improvement is tops among Big Ten players. The Hawkeye guard ranks second on the team and 10th in the league in scoring (15.8), and is first on the team in steals per game (1.4), 3-pointers made (71), and free throw shooting (.856, 83-of-97). Jok enters this week's Big Ten Tournament having made his last 21 consecutive free throws. Jok scored in double figures 22 times as a junior, including tallying 20 points or more 10 times. His 29-point outburst at Rutgers on Jan. 21 ties for the seventh most by a Hawkeye during the Fran McCaffery era.
The Big Ten Conference will announce its postseason awards Monday at 5 p.m. (CT) on the Big Ten Network.
Iowa (21-9, 12-6) will open play in the Big Ten Tournament on Thursday against either 12th-seeded Illinois or No. 13 seed Minnesota. Game time is approximately 1:30 p.m. (CT) at Bankers Life Fieldhouse in Indianapolis (BTN).