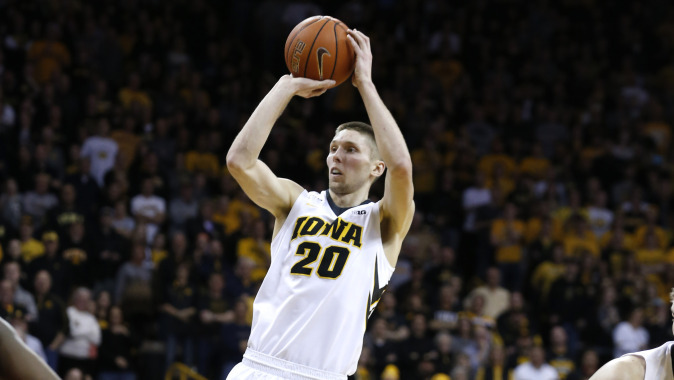 March 8, 2016
IOWA CITY, Iowa — University of Iowa senior Jarrod Uthoff and junior Peter Jok were named Tuesday to the 10-player All-District VI team by the United States Basketball Writers Association (USBWA). The all-district honor comes one day after both being recognized on All-Big Ten teams.
Uthoff and Jok are two of four Hawkeyes in three years to garner all-district accolades (Roy Devyn Marble in 2014; Aaron White in 2015).
Uthoff, a native of Cedar Rapids, Iowa, ranks second in the Big Ten in scoring (18.8), first in blocked shots (2.7), and tied for 10th in rebounding (6.5). The forward ranks 20th in Iowa career scoring (1,238) and fourth in blocked shots (172). Uthoff (6-foot-9, 221 pounds) has scored in double figures in all but one game this season, including netting 20 points or more a team-best 14 times. The team co-captain is one of only three Hawkeyes in program history to amass 1,000 points and 150 blocks in a career (Acie Earl and Greg Stokes). He currently is one of only two players nationally to total more than 550 points, 190 rebounds, and 80 blocked shots (Stony Brook's Jameel Warney). Additionally, Uthoff is only the second player nationally the last 20 years to average two blocks and two 3-pointers per game (Duke's Shane Battier in 1999-00 and 2000-01).
After averaging seven points per game a season ago, Jok (6-foot-6, 205 pounds) surged 8.8 points this year, averaging 15.8 points contest. The 8.8 improvement is tops among Big Ten players. The Hawkeye guard ranks second on the team and 10th in the league in scoring (15.8), and is first on the team in steals per game (1.4), 3-pointers made (71), and free throw shooting (.856, 83-of-97). Jok enters this week's Big Ten Tournament having made his last 21 consecutive free throws. Jok scored in double figures 22 times as a junior, including tallying 20 points or more 10 times. His 29-point outburst at Rutgers on Jan. 21 ties for the seventh most by a Hawkeye during the Fran McCaffery era.
Joining Jok and Uthoff on the 10-player squad is Buddy Hield (Oklahoma); Perry Ellis (Kansas); Isaiah Cousins (Oklahoma); Monte Morris (Iowa State); Georges Niang (Iowa State); Ron Baker (Wichita State); Fred Van Vleet (Wichita State); Frank Mason III (Kansas).
Iowa (21-9, 12-6) will open play in the Big Ten Tournament on Thursday against either Minnesota or Illinois. Game time is approximately 1:30 p.m. (CT) at Bankers Life Fieldhouse in Indianapolis (BTN).