March 16, 2016
NCAA Division I Wrestling Championships Photo Gallery

By DARREN MILLER
hawkeyesports.com
NEW YORK — Tom Brands has taken the University of Iowa wrestling team from a history-making event to open the 2015-16 season to a finale in one of the most historic arenas in the country.
On Wednesday, Brands met with media inside Madison Square Garden to give final statements before the NCAA Division I Championships kick off Thursday at 11 a.m. (CT).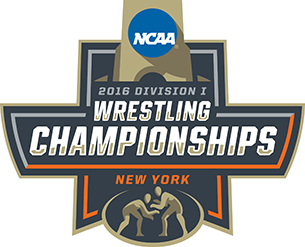 Brands was joined at the news conference by other head coaches Cael Sanderson of Penn State, Pat Popolizio of North Carolina State, John Smith of Oklahoma State, and Tom Ryan of Ohio State.
"We know (Madison Square Garden) is historic. We know it's a challenge and it's good to be in the Big Apple, no doubt. We're excited," Brands said.
Brands wasn't asked specifics about his 2015-16 team or the nine Hawkeye qualifiers who will compete for individual national championships. The first question he fielded was about promoting the sport — specifically, Grapple on the Gridiron on Nov. 14 in Kinnick Stadium that attracted a record wrestling crowd of 42,287. The Hawkeyes defeated Smith's Cowboys, 18-16, that day.
"You keep trying to push the envelope a little bit. We got the fans to do it," Brands said. "We don't take credit for being original, but we do take credit for being able to pull it off in grand fashion. Wrestling needs it. It needs it yearly or semi-yearly — as many times as you can get (fans) packed in.
"You have a good product and you make it good with fanfare and excitement. The more people you put into building to watch the sport, the more exciting it gets. There's no doubt, especially knowledgeable wrestling fans."
| | |
| --- | --- |
| | "We know (Madison Square Garden) is historic. We know it's a challenge and it's good to be in the Big Apple, no doubt. We're excited." |
There will be no shortage of knowledgeable wrestling fans in New York City for the next three days. Brands says it's an opportunity to put on an impressive show.
"There are a lot of things that compete with wrestling here — the Rangers, the Islanders, the Knicks," Brands said. "New Jersey has professional teams. But that doesn't mean that with great wrestling and great stories — people putting them out there — that this can't be a great stage for wrestling. We are in the Garden, on the main floor of the Garden, not in the corner of the Garden or anywhere else. Go out there and let it fly."
Eight of Iowa's nine competitors are seeded and five of those are seeded in the top four of their respective weight divisions: junior Thomas Gilman (fourth at 125 pounds), junior Cory Clark (second, 133), sophomore Brandon Sorensen (second, 149), junior Sammy Brooks (second, 184), senior Nathan Burak (fourth, 197). Freshman Sam Stoll is 11th at 285, senior Edwin Cooper, Jr., is 13th at 157, and junior Alex Meyer is 13th at 174.
"You have to have the team ready to go and have guys that are ready to put it on their shoulders and compete at a level that's not only going to give them the best chance to win, but is going to capture the fancy of fans," Brands said. "It takes a lot of courage to wrestle that way.
"The guys that I watched wrestle when I was younger were the ones that were scoring points. One of those guys is sitting at this table and his name is John Smith. He scored a lot of points. He revolutionized the sport of wrestling. That's how they've got to look at it sometimes, take that responsibility. I believe in that. We talked about it. It's part of the philosophy of our program."
The Big Ten Conference is sending 79 wrestlers — including 53 seeded grapplers — and five No. 1 seeds across the 10 weight classes. ESPN will broadcast every match on every mat again this year on ESPN3/WatchESPN, in addition to linear coverage of all six sessions. Friday night and Saturday night are on ESPN, while all other sessions are on ESPNU.