March 18, 2016
Session III Photo Gallery

| Updated Brackets After Session III

NEW YORK CITY — Four University of Iowa wrestlers advanced to the semifinals of the 2016 NCAA Wrestling Championships on Friday afternoon at Madison Square Garden.
Thomas Gilman (125), Cory Clark (133), Brandon Sorensen (149), and Nathan Burak (197) each won their respective quarterfinals bouts, securing All-America honors and earning a berth in Friday night's semifinals.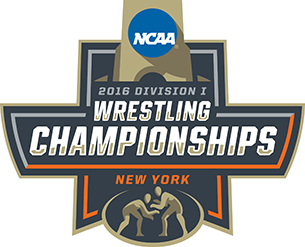 Gilman scored from start to finish to advance with a 16-5 major decision, his third bonus point victory of the season.
"What I do best is wearing guys out and getting to their legs," said Gilman, who advanced to the semifinals for the second straight season. "I broke him in the first period and that's what I like to do."
Clark took another step closer to finals with a 4-0 shutout in the quarters. His match was scoreless before he escaped in the second period and finished a takedown with 30 seconds left in the second. He put on a two-minute ride in the third period to add 2:24 riding time.
"Riding hard is huge because it takes it out of them and it's a riding time point," Clark said. "They know they have to get off and out so it forces them to work hard. When you're working hard and they still can't get away that gets to them.
"I just need to keep doing what I do best and keep my leads, score a lot of points and wrestle tough. If I can put that together, add some takedowns and near falls, I'll be set."
Sorensen needed nine and one-half minutes to advance past his quarterfinal match. He traded a pair of escapes with Nebraska's Jake Sueflohn in regulation and overtime, fighting to a 2-2 tie before finally ending the match with a takedown halfway through the second sudden victory period.
"I feel good but there is still work to be done," Sorensen said. "I'm going to go back, get something to eat and get ready for tonight."
Burak took control of his match 2-0 with a reversal with eight seconds on the second period clock. He added a takedown in the third period and was awarded a point for stalling, advancing to the semifinals for the first time in his career. He has secured his third All-America honor.
"It's pretty exciting, but the big thing is I want to get on top of the podium, that's the big thing," Burak said.
Iowa's fifth quarterfinalist, Sammy Brooks, was dropped to the consolation round with a 9-6 defeat to Nebraska's T.J. Dudley. He needs to win one match on the back side of the bracket to make the medal stand.
Alex Meyer rattled off consecutive wins in the 174-pound consolation bracket. Meyer erased an early deficit in both matches, trailing 14th-seeded Nick Kee, 6-3, before running to a 10-9 win. He then climbed back from a 4-0 deficit against sixth-seeded Bryce Hammond, swinging the momentum to the tune of a 15-4 major decision. Meyer lost his opening match of the tournament but has battled back to the doorstep of the medal stand.
The Hawkeyes are in third place with 48.5 points. Penn State leads the team race with 68.5 points. Ohio State (54), Oklahoma State (46) and Missouri (42.5) round out the top five.
The semifinal and consolation rounds begin Friday at 7 p.m. (CT). ESPN will televise the semifinals. ESPN3 will stream the consolation rounds.
QUARTERFINAL RESULTS
125 — #4 Thomas Gilman (IA) major dec. #5 Ryan Millhof (OU), 16-5
133 – #2 Cory Clark (IA) dec. #7 Eric Montoya (NEB), 4-0
149 – #2 Brandon Sorensen (IA) dec. #7 Jake Sueflohn (NEB), 4-2 (TB2)
184 – #7 Timothy Dudley (NEB) dec. #2 Sammy Brooks (IA), 9-6
197 – #4 Nathan Burak (IA) dec. #5 Connor Hartmann (DUKE), 5-2
CONSOLATION RESULTS
157 – #14 Austin Matthews (EDIN) pinned #13 Edwin Cooper, Jr. (IA), 4:51
174 – #13 Alex Meyer (IA) dec. #14 Nick Kee (APP), 10-9
174 – #13 Alex Meyer (IA) major dec. #6 Bryce Hammond (CSUB), 15-4
SEMIFINAL MATCHUPS
125 — #4 Thomas Gilman (IA) vs. #1Nathan Tomasello (OHIO ST)
133 – #2 Cory Clark (IA) vs. #3 Zane Richards (ILL)
149 – #2 Brandon Sorensen (IA) vs. #11 Anthony Collica (OKST)
197 – #4 Nathan Burak (IA) vs. #1 Morgan McIntosh (PSU)
CONSOLATION MATCHUPS
174 – #13 Alex Meyer (IA) vs. #9 Chandler Rogers (Oklahoma State)
184 – #2 Sammy Brooks (IA) vs. #4 Dom Abounader (Michigan)
Attendance: 17,899