March 18, 2016
Session IV Photo Gallery

| Session III Photo Gallery

| Updated Brackets After Session IV

NEW YORK — The University of Iowa advanced three wrestlers to the finals of the 2016 NCAA Championships on Friday night at Madison Square Garden.
Thomas Gilman (125), Cory Clark (133), and Brandon Sorensen (149) won their respective semifinal matches and will compete for national championships Saturday at 7 p.m. (CT) inside the "World's Most Famous Arena."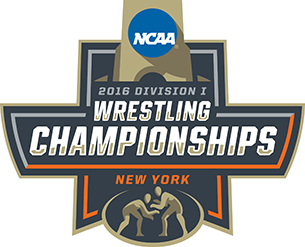 It is the first time since 2012 that Iowa has had three wrestlers in the finals (Matt McDonough, Montell Marion, Derek St. John). The Hawkeyes have had at least one NCAA finalist in 27 consecutive seasons.
Clark is making his second straight appearance in the finals. He was runner-up last season, but worked his way back onto the main stage with a 4-3 decision over third-seeded Zane Richards. Richards struck first with a first-period takedown, but Clark struck last, scoring the final two points with a takedown nine seconds left in the period.
"I knew that I was wearing on him," Clark said. "I was able to really get him to start thinking defense, and once a guy starts thinking defense, that's when you get to the leg and you finish."
Gilman pinned the defending national champion in sudden victory to reach the NCAA finals for the first time in his career. He was tied, 1-1, with top-seeded Nathan Tomasello after seven minutes of regulation, and ended the Ohio State sophomore's 43-match win streak halfway through the first overtime period.
"I hooked his head with my foot and made an adjustment there," Gilman said. "That's something — if you look at my career, that something I've really done well is making adjustments, not only day-to-day or year-to-year, but within the match itself. And that's what good wrestlers do. They make adjustments within the match."
Sorensen's second period takedown was the difference in his 4-2 decision against Oklahoma State's sixth-seeded Anthony Collica.
"The match ended up coming down to a takedown," Sorensen said. "Again, I don't like it to be that way. I don't like to be tight. But that's what happened, and you've got to come out on top, and that's what I did. I'm moving on to the finals."
The Hawkeyes are in third place entering Saturday's All-America round. Alex Meyer (174), Sammy Brooks (184), and Nathan Burak (197) are all still competing on the back side of the bracket. Meyer won four consecutive consolation matches to advance to the All-America round for the first time in his career. Brooks defeated fourth-seeded Dom Abounader in the Round of 12 to advance to his first All-America round. Both wrestlers lost in the consolation quarterfinals and will wrestle for seventh place in their respective brackets.
Burak fell to top-seeded Morgan McIntosh in the 197-pound semifinals. He will compete in the consolation semis Saturday morning.
"We won five matches in a row and then we lost three, so we've got to pick ourselves up as a team and go forward," said UI head coach Tom Brands. "The bottom line is we have two seventh place matches, a guy in the top six that has a chance at getting third, and he's a senior, and we have three in the finals."
Penn State leads the team race with 114 points. Oklahoma State (79.5), Iowa (77.5), Virginia Tech (69.5), and Ohio State (68) round out the top five.
The All-America round begins Saturday at 10 a.m. (CT). The finals begin at 7 p.m. (CT). ESPN will televise the finals. ESPN3 will stream the All-America round.
SEMIFINAL RESULTS
125 – #4 Thomas Gilman (IA) pinned #1 Nathan Tomasello (Ohio State), 7:37 SV1
133 – #2 Cory Clark (IA) dec. #3 Zane Richards (ILL), 4-3
149 – #2 Brandon Sorensen (IA) dec. #11 Anthony Collica (OKST), 4-2
197 – #1 Morgan McIntosh (PSU) dec. #4 Nathan Burak (IA), 4-2
CONSOLATION RESULTS
174 – #13 Alex Meyer (IA) dec. #9 Chandler Rogers (Oklahoma State), 7-2
174 – #8 Zach Epperly (Virginia Tech) major dec. #13 Alex Meyer (IA), 10-2
184 – #2 Sammy Brooks (IA) dec. #4 Dom Abounader (Michigan), 13-7
184 – #9 Matthew Miller (Navy) pinned #2 Sammy Brooks (IA), 2:34
FINAL MATCHUPS
125 – #4 Thomas Gilman (IA) vs. #3 Nico Megaludis (PSU)
133 – #2 Cory Clark (IA) vs. #1 Nahshon Garrett (Cornell)
149 – #2 Brandon Sorensen (IA) vs. Zain Retherford (PSU)
CONSOLATION MATCHUPS
197 – #4 Nathan Burak (IA) vs. Patrick Downey (Iowa State)
SEVENTH-PLACE MATCHUPS
174 — #13 Alex Meyer (IA) vs. #7 Cody Walters (Ohio)
184 — #2 Sammy Brooks (IA) vs. #10 Nate Brown (Lehigh)
Attendance: 18,309