March 19, 2016
Photo Gallery

| Session V Brackets

| Session V Team Scores | Ceremonial Weigh-InPhoto Gallery

NEW YORK — University of Iowa wrestlers Nathan Burak, Sammy Brooks, and Alex Meyer finished their seasons in the medal round Saturday at the 2016 NCAA Championships in Madison Square Garden.
Burak won his consolation semifinal match, 3-1, but fell in the finals, 2-1, Saturday afternoon to finish in fourth place at 197. It is the third All-America honor of Burak's career. He placed eighth as a sophomore in 2014 and seventh as a junior in 2015.
Meyer and Brooks placed eighth in their respective 174- and 184-pound brackets. Meyer won four consecutive matches on the backside of the bracket to earn his first career All-America honor.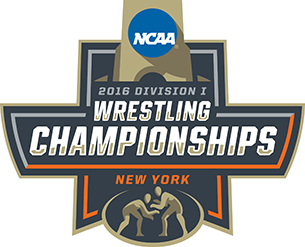 Brooks was 3-3 at the national tournament, winning two-of-three in the championship round and losing two-of-three in the consolation round. The All-America honor is the first of his career.
Iowa has six All-Americans for the second straight season. Thomas Gilman (125), Cory Clark (133), and Brandon Sorensen (149) are also on the medal stand. All three wrestle for national titles Saturday night beginning at 8 p.m. (CT).
The Hawkeyes are in fourth place with 81 points heading into the finals. Penn State has clinched the team title with 114 points. Oklahoma State is in second place with 89.5, Virginia Tech is in third with 82, and Ohio State rounds out the top five with 78.
The NCAA Championships final round will be televised on ESPN, and streamed live on ESPNU.
CONSOLATION SEMIFINAL RESULTS
197 – #4 Nathan Burak (IA) dec. Patrick Downey (ISU), 3-1 (SV)
3rd PLACE RESULTS
197 – #3 Brett Pfarr (MINN) dec. #4 Nathan Burak (IA), 2-1
7th PLACE RESULTS
174 – #7 Cody Walters (OHIO) dec. #13 Alex Meyer (IA), 4-3
184 – #10 Nate Brown (LEHIGH) dec. #2 Sammy Brooks (IA), 9-3
FINAL MATCHUPS
125 — #4 Thomas Gilman (IA) vs. #3 Nico Megaludis (PSU)
133 – #2 Cory Clark (IA) vs. #1 Nahshon Garrett (CORN)
141 – #1 Dean Heil (OKST) vs. #14 Bryce Meredith (WYO)
149 – #2 Brandon Sorensen (IA) vs. #1 Zain Rutherford (PSU)
157 – #1 Isaiah Martinez (ILL) vs. #3 Jason Nolf (PSU)
165 – #1 Alex Dieringer (OKST) vs. #2 Isaac Jordan (WISC)
174 – #1 Bo Nickal (PSU) vs. #11 Myles Martin (OSU)
184 – #1 Gabriel Dean (CORN) vs. #7 Tim Dudley (NEB)
197 – #1 Morgan McIntosh (PSU) vs. #2 J'Den Cox (MIZZ)
285 – #1 Nick Gwiazdowski (NCST) vs. #2 Kyle Snyder (OSU)