Photo Gallery

Final Team Scores

| Final Brackets

March 19, 2016
NEW YORK CITY — The University of Iowa wrestling team finished the 2016 NCAA Championships with three silver medals and six All-America honors, placing fifth overall with 81 points.
The Hawkeyes had a chance to move up the leader board with three national finalists competing Saturday night at Madison Square Garden, but all three came up empty in the gold medal round.
Thomas Gilman dropped a 6-3 decision at 125 pounds, Cory Clark lost 7-6 at 133, and Brandon Sorensen fell 10-1 at 149.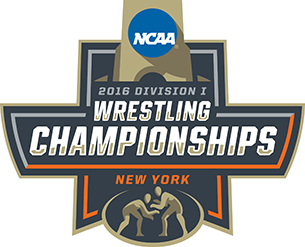 "We take this stuff personal. I'm not miserable because we were 0-3, I'm miserable for Gilman, Clark and Sorensen, and also nine other qualifiers that didn't perform the way they probably wanted to," said UI head coach Tom Brands. "I think our fans expect more, I know we expect more."
Gilman forced the action early against Penn State's Nico Megaludis, but was tripped up on his own single-leg attempt in the first period and found himself wrestling from behind the final six minutes. Gilman finished the season 28-2, with both losses to Megaludis.
"I had never beaten that guy before and I felt like I had him and out-wrestled him," Gilman said. "The scores didn't show that though. I didn't put any points on the board. I can't just out-wrestle my opponents; I have to outscore them too. That's hard to swallow. I was too aggressive in a couple spots and that was the difference. I am not taking anything away from him though, he is a tough competitor."
Clark walked off the mat as an NCAA runner-up for the second straight year. He finished his junior season with a 26-2 record, earning his third All-America honor.
"I just didn't get the job done, not very satisfied or happy with the results," Clark said. "I have to take it like a man and move forward. I need to get my head straight, let my body recover and then get back to work."
Sorensen lost for just the second time this season, both times to Penn State's Zain Retherford. Sorensen finished the season 29-2, earning his second All-America honor in as many seasons. He placed fourth as a redshirt freshman in 2015.
"I'm going to be training all year, 365 days for this," Sorensen said after the match. "We have this coming up again next year, and it seems like it's a long time, but it's not, it's short. We have a lot of work to do."
Penn State won the team title with 123 points. Oklahoma State was second with 97.5, and Ohio State was third with 86.
The Hawkeyes return five All-Americans in 2016-17, including NCAA finalists Gilman, Clark, and Sorensen, and first-time All-Americans Alex Meyer and Sammy Brooks.
CHAMPIONSHIP FINALS RESULTS
125 – #3 Nico Megaludis (PSU) dec. #4 Thomas Gilman (IA), 6-3
133 – #1 Nahshon Garrett (CORN) dec. #2 Cory Clark (IA), 7-6
141 – #1 Dean Heil (OKST) dec. #14 Bryce Meredith (WYO), 3-2
149 – #1 Zain Retherford (PSU) major dec. #2 Brandon Sorensen (IA), 10-1
157 – #1 Isaiah Martinez (ILL) dec. #3 Jason Nolf (PSU), 6-5
165 – #1 Alex Dieringer (OKST) dec. #2 Isaac Jordan (WISC), 6-2
174 – #11 Myles Martin (OSU) dec. #1 Bo Nickal (PSU), 11-9
184 – #1 Gabriel Dean (CORN) dec. #7 Tim Dudley (NEB), 5-3
197 – #2 J'Den Cox (MIZZ) dec. #1 Morgan McIntosh (PSU), 4-2
285 – #2 Kyle Snyder (OSU) dec. #1 Nick Gwiazdowski (NCST), 7-5 (SV)