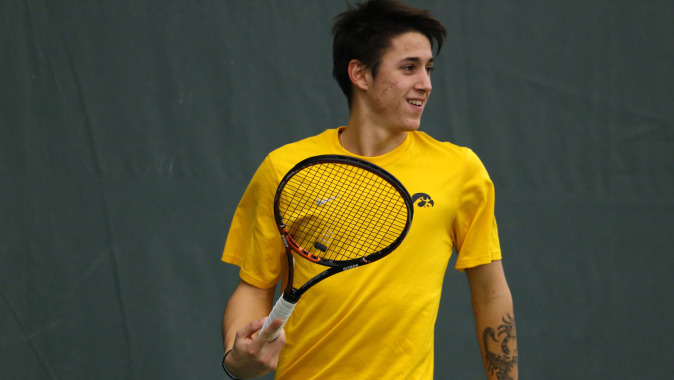 March 23, 2016
WHAT YOU NEED TO KNOW
The Hawkeyes will face No. 37 Wisconsin on Friday in Madison
Iowa is hosting Minnesota at 3 p.m. on Sunday inside the HTRC
The Hawkeyes are ranked No. 56 in the latest Oracel/Intercollegiate Tennis Association rankings
Sophomore Lefteris Theodorou is now 3-1 at No. 1 on the season
THIS WEEK:
The 56th-ranked University of Iowa men's tennis team will resume Big Ten play Friday in Madison against No. 37 Wisconsin. They'll have a quick turnaround as they are scheduled to host Minnesota on Sunday for a 3 p.m. matchup. Admission is free to Sunday's match at the Hawkeye Tennis and Recreation Complex (HTRC).
THE GREEK FREAK:
Sophomore Lefteris Theodorou has played three of his last five matches at No. 1 and is 3-1 at the spot this season. He attributes his success during the Hawkeyes' Spring Break trip to his loss against a Big Ten foe.
"I had a bad match against Nebraska and afterwards I knew I needed to pick myself up and pick up my intensity on the court. Also, I knew that my match against Oklahoma would be a good test of where I'm at with my game so I wanted to be ready for that."
Theodorou played just three matches at the top of the lineup during his freshman campaign and has a career record of 6-1 on court one.
"I try to go into my matches with a lot of energy so I don't lack intensity or motivation."
SCOUTING THE COMPETITION:
The Badgers are on a five match win streak, with their last victory coming against then No. 36 Drake, 4-3, in Des Moines.
Last season, Iowa hosted an unranked Wisconsin team and won the match, 4-3. This year, the Hawkeyes will face a 37th-ranked Wisconsin team with one Big Ten win.
"The Badgers have a lot of talent on their team," said UI head coach Ross Wilson.
"They've got a number of juniors and seniors who've played a lot of matches so they're definitely a very capable team and this doesn't surprise us at all."
Minnesota is 1-6 on the road this season, with an 0-1 record in the Big Ten. Iowa last hosted the Gophers in 2014 and won the match, 4-3.
"They're the most underrated team in the Big Ten, by far. Their top three athletes are all top 100 players in college tennis," said Wilson.
"They've had a couple injuries here-and-there and I know that has slowed them down but I think they will be back to full strength this weekend. The Gophers are a top 50 team for sure."
HEAD COACH Ross Wilson ON ROAD TRIPS:
"I think it's always tough in any sport when you go on the road, but this year we've had some very tough matches. At Drake we were points away from serving for the match and we've had other matches that have been very close. Our guys need to be able to control their emotions a little bit better and we need to compete better in those big pressure moments when we're on the road."
FOLLOW THE HAWKEYES
Fans can follow the Hawkeyes all season long and receive live match updates on Facebook (facebook.com/IowaMensTennis) or on Twitter (@IowaMensTennis). Fans can also get a behind the scene look on Snapchat (uiowamenstennis).
LIVE STATS
Live stats will be available for Sunday's match on the Iowa men's tennis schedule page at hawkeyesports.com. Check out our Twitter and Facebook the day of the match for a direct link.