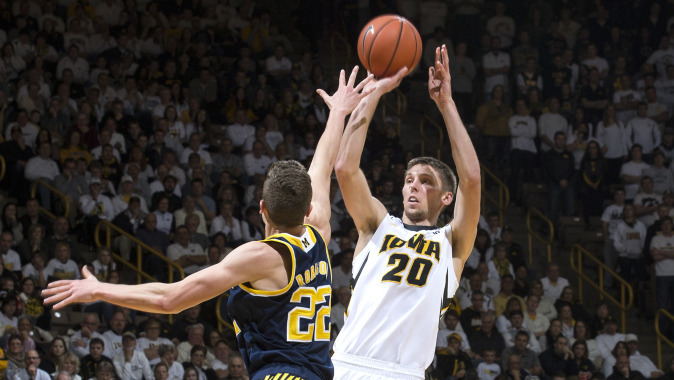 March 29, 2016
IOWA CITY, Iowa — University of Iowa senior Jarrod Uthoff was named Tuesday to The Associated Press (AP) All-America Third Team.
Uthoff becomes Iowa's first AP All-American since Andre Woolridge earned third team laurels in 1997 and ninth overall. Murray Wier was an AP All-American in 1948, followed by Chuck Darling (1952), Don Nelson (1962), Sam Williams (1968), John Johnson (1970), Fred Brown (1971), Ronnie Lester (1979), and Woolridge (1997).
Uthoff is a consensus second-team All-American — Iowa's first consensus All-American in 64 years (Chuck Darling was a first team honoree in 1952). According to NCAA award guidelines for men's basketball, consensus All-Americans are determined by their All-America recognition by the National Basketball Coaches Association (NABC), Associated Press, and United States Basketball Writers Association (USWBA).
Uthoff, a native of Cedar Rapids, Iowa, ranked second in the Big Ten in scoring (18.9 ppg), first in blocked shots (2.6 bpg), and tied for 13th in rebounding (6.3 rpg). The forward ranks 19th in Iowa career scoring (1,298) and fourth in blocked shots (177). Uthoff (6-foot-9, 221 pounds) scored in double figures in all but one game this season, including netting 20 or more points a team-best 16 times.
Uthoff's 624 points this season ranks eighth-most in Iowa single-season annals. The team co-captain is one of three Hawkeyes in program history to amass 1,000 points and 150 blocks in a career (Acie Earl and Greg Stokes). He was one of two players nationally to total more than 600 points, 200 rebounds, and 85 blocked shots (Stony Brook's Jameel Warney). Uthoff is the second player nationally in the last 20 years to average two blocks and two 3-pointers per game (Duke's Shane Battier in 1999-00 and 2000-01).
The Hawkeyes won 22 games, tied for third place in the Big Ten, and advanced to the second round of the NCAA Tournament in 2016.