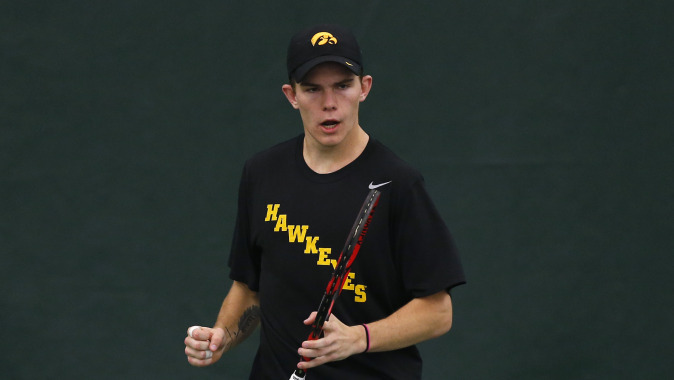 April 6, 2016
WHAT YOU NEED TO KNOW:
No. 63 Iowa is hosting Creighton and No. 15 Illinois inside the HTRC on Friday at 11 a.m. and 6 p.m. respectively.
The HTRC is now equipped with PlaySight technology and all home Hawkeye tennis matches will be live streamed across the globe.
The No. 63 Hawkeyes are set to host No. 13 Northwestern at noon on Sunday.
THIS WEEK:
The 60th-ranked University of Iowa men's tennis team is back home Friday for a doubleheader at the Hawkeye Tennis and Recreation Complex (HTRC). The Hawkeyes will start the day at 11 a.m. (CT) against Creighton and end the day versus No. 15 Illinois at 6 p.m. Iowa will pick up action again inside the HTRC on Sunday at noon against No. 15 Northwestern. Admission will be free to the public.
STEPPING IN:
Freshman Jonas Larsen spent the first half of the season solely on the singles court where he accumulated seven wins across the four, five, and six, positions. The Hawkeye was called upon to play doubles at the end of March.
""Double tennis in college is much more intense than it was when I played on the ITF tour," said Larsen. "You basically only get 20 minutes and if you let one or two games pass by or even drop a couple of points it can be hard to get back in the match." "For future matches I need to work on making returns and hitting my big forehand so my partner can cross at the net and put the volley away."
PLAY IN SIGHT:
As of this weekend, the HTRC will be equipped with leading technology in sports video-review and analytics. PlaySight is already being utilized by top programs like UNC, Northwestern, and Ohio State. Both the men's and women's teams will be able to use the technology to collect data on their athletes and improve the games of tennis players in both programs. PlaySight will also stream all Iowa matches live worldwide on both the inside and outside courts.
SCOUTING THE COMPETITION:
Creighton will enter Friday with a three-match losing streak after falling to Xavier, 5-2, on Saturday. The Hawkeyes are 5-0 all-time against the Bluejays.
The No. 15 Fighting Illini are 13-7 on the year and 4-1 in conference play. Their only Big Ten loss went to Northwestern in March. Illinois is .500 on the road, but is 5-7 against ranked opponents.
The 13th-ranked Northwestern Wildcats have only lost two matches all season and currently hold a five-match win streak. Northwestern will take on Nebraska in Lincoln on Friday. Heading into that match the Wildcats are 5-0 in Big Ten play.
FOLLOW THE HAWKEYES
Fans can follow the Hawkeyes all season long and receive live match updates on Facebook (facebook.com/IowaMensTennis) or on Twitter (@IowaMensTennis). Fans can also get a behind the scene look on Snapchat (uiowamenstennis).
HAWKS LIVE
Live stats and live video streaming will be available for Friday's double header against Creighton and No. 15 Illinois and Sunday's match against No. 13 Northwestern on the Iowa men's tennis schedule page at hawkeyesports.com. Check out our Twitter and Facebook the day of the match for a direct link.