April 11, 2016
U.S. Olympic Team Trials (57 kg final)

| U.S. Olympic Team Trials (57 kg quarters/semis)

Editor's Note: The following first appeared in the University of Iowa's Hawk Talk Daily, an e-newsletter that offers a daily look at the Iowa Hawkeyes, delivered free each morning to thousands of fans of the Hawkeyes worldwide. To receive daily news from the Iowa Hawkeyes, sign up HERE.
By DARREN MILLER
hawkeyesports.com
IOWA CITY, Iowa — Daniel Dennis thought upon his return to the sport of wrestling that he was capable of beating anyone in the 57-kilogram weight division.
The two-time NCAA All-American from the University of Iowa proved that Sunday with an impressive romp through four matches at the U.S. Olympic Wrestling Team Trials inside Carver-Hawkeye Arena where he went undefeated and outscored opponents, 27-5.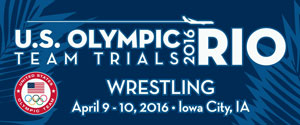 Dennis will carry the torch for the Hawkeye Wrestling Club to the Olympic Games in Rio de Janeiro, Brazil, becoming the 18th Hawkeye to wrestle in the Olympics and the first since Steve Mocco, Doug Schwab, and Mike Zadick in the 2008 Games in Bejing, China.
Dennis took a break from the sport after the 2010 season when he placed second at the Big Ten and NCAA championships. He eased back into things by going to one tournament, then another, then another, then overseas. His zigging and zagging brought him back to Carver-Hawkeye Arena on Sunday for one of the most spectacular days of his career.
"Pretty good," Dennis said when asked how this accomplishment compared to others in his career. "Pretty good right now; I'll tell you where it rates after the Olympics."
It's not that Dennis lacks confidence in his abilities, but he was vocal leading up to the Trials that his pedigree paled in comparison to others in the 57 kg field. That included 2012 Olympic bronze medalist Coleman Scott and Tony Ramos, a two-time U.S. World Team member.
"He has better credentials — three-time (NCAA) All-American, two-time (NCAA) finalist and (2014 NCAA) champ," Dennis said, hours before facing Ramos, his college teammate, in the 57 kg final. "He has a lot going for him and he is the big man on campus right now. That is not in debate, he is. It is my job to dethrone him."
The overthrow was overwhelming. After winning the first bout of the best-of-three series, 2-1, Dennis picked it up a notch with a 10-0 technical superiority in 64 seconds. It was such a whirlwind decision that Dennis couldn't remember how it started.
| | |
| --- | --- |
| | Daniel Dennis enjoyed an impressive romp through four matches at the U.S. Olympic Wrestling Team Trials where he went undefeated and outscored opponents, 27-5. |
"I have no idea. I don't know how I got the takedown. How did I get the takedown? I really have no idea, was it a go-behind, I think? I'm not sure," Dennis said.
But Dennis remembers exactly what he was thinking once he got control of Ramos.
"Give me my gut, give me my gut. I want a gut-wrench really bad because I'm going to try to break his ribs," Dennis said. "I love Tony, but we're competitors on the mat."
Predictably, Dennis dealt with various emotions in the day leading up to the Trials — as well as in the moments immediately after. Tears rose in his eyes twice during the post-match interview. The first was when he mentioned former UI teammate Brent Metcalf wouldn't join him on the Olympic team at 65 kg. The second was when he told reporters of a 90-second phone call followed by a text message of encouragement from Metcalf.
"It sucks in a sense that someone who has helped me so much and I have looked up to — Metcalf — isn't here and I want him on that team," Dennis said. "He is so good and that's bittersweet looking back at that now."
Because of his relationship with Metcalf, Dennis felt simultaneous elation and desolation Sunday.
"It made me sad hearing he didn't qualify," Dennis said. "Then (Metcalf) called me. It was maybe a minute-and-a-half conversation. I know he is a hurt soldier and he took the time to call me and he texted me (Sunday). Little things like that — insignificant to most people — mean the world to me and I'm grateful to him as a teammate."
Dennis inherited five new freestyle teammates this weekend. Joining him on the Olympic roster for the United States are Frank Molinaro (65 kg), Jordan Burroughs (74 kg), J'Den Cox (86 kg), Kyle Snyder (97 kg), and Tervel Dlagnev (125 kg).
They all have impressive biographies, filled with striking wrestling exploits. So does Dennis.
"I think I can beat everybody," Dennis said. "I'm not saying I'm the best, but I think I can beat everybody as long as I wrestle well."
Dennis was very good Sunday. So good, that his next big stop is Rio de Janeiro.