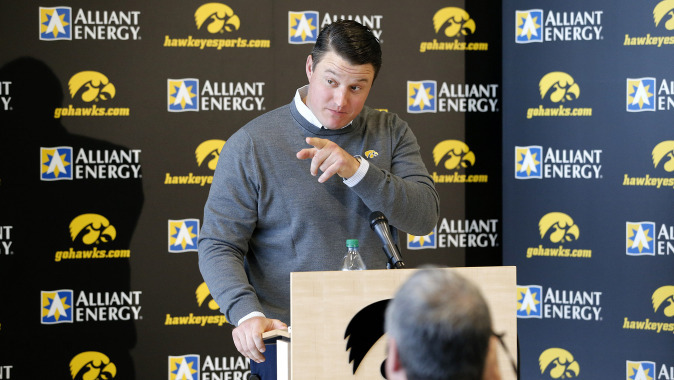 April 13, 2016
B. Ferentz Transcript in PDF Format

| Practice No. 10/News Conference Photo Gallery

By MATTHEW WEITZEL
hawkeyesports.com
IOWA CITY, Iowa — University of Iowa offensive line coach Brian Ferentz is pleased with the group's progress this spring with five returning linemen who have game experience and 11 more in the rotation.
Ferentz, who is in his fifth season on the coaching staff, provided media and update Wednesday in the Stew and LeNore Hansen Football Performance Center.
Boone Myers, who started 10 games at left tackle last fall, has moved to guard. Ferentz applauded the junior's athletic ability.
"As a 6-foot-5 guy goes, Boone is as good an athlete as we have," Ferentz said. "We saw him as the most capable of moving inside. He's explosive and is a gifted athlete."
Center has been an of steadiness in recent years with James Ferentz, Austin Blythe, and Tommy Gaul solidifying the position. This is the first offseason in several years where the Hawkeyes won't be able to rely on someone with a lot of experience at the position.
That said, Ferentz praised junior Sean Welsh's natural ability and has shifted him to center. Welsh, who started 12 games at guard and two at tackle a year ago, would be the first Hawkeye since Ferentz began coaching at Iowa in 2012, to play all three positions within 12 months.
"Things happen naturally for Sean; he's adjusted nicely," Ferentz said. "There's some things that he still needs to work on. He's going to have to continue to work on those things, but I'm pleased with his progress this far and if he can continue that progress, I believe he has a chance to be a pretty good one."
Senior Cole Croston remains at tackle. The native of sergeant Bluff, Iowa, started the last 10 games of the season a year ago. Ferentz is impressed with the former walk-on's work ethic.
"He's been mature beyond his years since the beginning," said Ferentz. "He has grown leaps and bounds.
"When Boone went down in the North Texas game (Sept. 26, 2015), Cole stepped in and never stepped out. I think that's a credit to him. He started every Big Ten game and I would have put him up against most guys in the conference. He deserved to be on the field."
Ike Boettger started six games last season at right tackle. The junior remains on the outside and Ferentz said he is excited to see him continue to develop.
Keegan Render is getting reps on the inside with the first group. James Daniels and Mitch Keppy are missing time this spring recovering from injuries. Daniels was one of four true freshmen to see action last season.
"That next group, you've got guys like Ryan Ward, Dalton Ferguson, Steve Ferentz — guys that have been around that are now starting to emerge and get work," said Ferentz. "You have new guys like Lucas LeGrand and Ross Reynolds — redshirts a year ago — and now coming into their second spring and making some progress. After that you've got the freshmen group who continue to make strides: Brett Waechter, the Paulson twins and Jake Newborg."
Ferentz said that outside of developing depth, the group's No. 1 priority this offseason is improving pass protection.
Earlier Wednesday, Iowa completed its 10th of 15 spring practices and for the first time the Hawkeyes were inside Kinnick Stadium. An open practice is scheduled for April 23 at 1 p.m. (CT) in Kinnick Stadium.