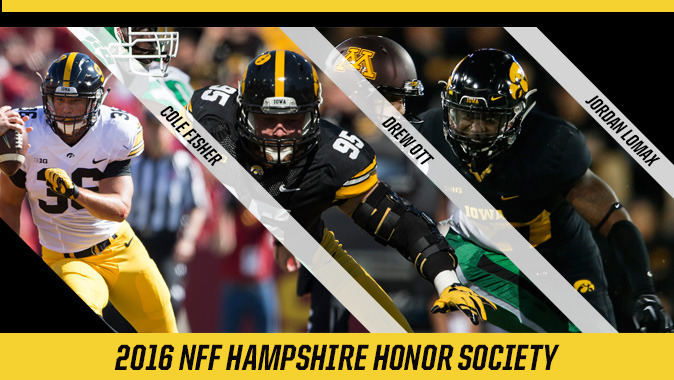 April 27, 2016
IOWA CITY, Iowa — Cole Fisher, Jordan Lomax and Drew Ott, senior members of the 2015 University of Iowa football team, have been named to the National Football Foundation Hampshire Honor Society.
Now in its 10th year, the Hampshire Society recognizes senior football players who are starters or significant reserves, and carry a cumulative grade point average of 3.20 or higher (on a 4.0 scale) throughout their college career. The NFF recognized 868 players from 275 college football programs at all levels. The entire list can be found on the National Football Foundation website, www.footballfoundation.org.
Fisher, who primarily played special teams prior to his senior season, started all 14 games at weakside linebacker in 2015. The Omaha, Nebraska, native, ranked second on the team and sixth in the Big Ten with 116 tackles. He tallied 5.5 tackles for loss, three sacks, one interception, and six pass break-ups. Fisher was Iowa's leading tackler in six games and recorded a career-high 14 tackles in Iowa's Big Ten opener against Wisconsin.
Lomax ranked third on the Hawkeyes this season with 96 tackles. The native of Upper Marlboro, Maryland, finished his Hawkeye career with exactly 200 tackles. He was a third team All-Big Ten honoree and a second team Academic All-American in 2015. Lomax, who was chosen to Iowa's Leadership Group the last three seasons and selected a permanent team captain at the end of the 2015 season, played in 47 games as a Hawkeye, starting 27, at defensive back.
Ott had his season cut short after six games due to injury, but remained one of the team leaders throughout the season. He was selected as one of five permanent team captains at the conclusion of the 2015 season. The native of Trumbull, Nebraska, tied for second on the team in tackles for loss (7.5). He played in 46 games as a Hawkeye, starting 29, at defensive end.
The Hampshire Honor Society represents a powerful component in the NFF's rich history as an innovator in promoting the scholar-athlete ideal. Since its inception in 1959, the NFF's National Scholar-Athlete Awards program has awarded $10.9 million to 816 top scholars and community leaders.