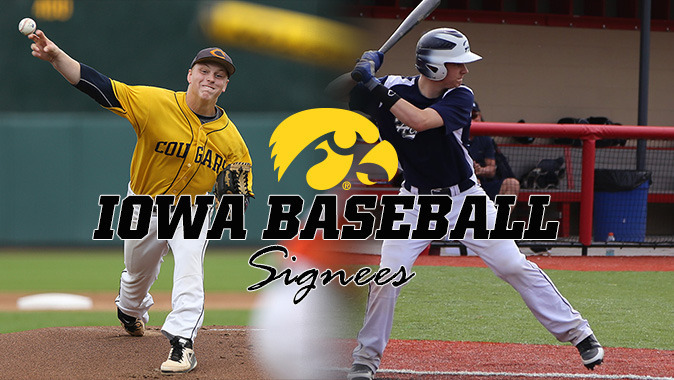 April 29, 2016
IOWA CITY, Iowa — University of Iowa head baseball coach Rick Heller announced the signing of Derek Lieurance and Jack Kinzer to the 2016 recruiting class. The pair joins 11 players that signed with the Hawkeyes last November.
Lieurance, a 6-foot, 180 pound right-handed pitcher from Cascade, Iowa, is 7-0 with a 2.09 ERA in eight appearances (seven starts) as a freshman at North Iowa Area Community College. He has allowed 12 runs (nine earned) in 38 2/3 innings and has 55 strikeouts to 19 walks. He averages 12.80 strikeouts per nine innings.
As prep, Lieurance was a Super Team All-State, first-team all-state, 2A team captain, and a first-team all-conference and all-district selection at Cascade High School. He had a 7-1 record and struck out 103 batters in 59 innings as a senior. Lieurance was also a first-team all-state quarterback, earning district most valuable player honors, after throwing for 2,669 yards and 29 touchdowns as a senior.
"We are happy that Derek has chosen to be a Hawkeye," said Heller. "He has had a great year at NIACC so far, and we feel he will have a big role on our pitching staff next year. Derek is a great athlete with a good arm who knows how to compete. We are excited to have him in our program."
Kinzer, a 6-1, 195 pound catcher from Port Washington, Wisconsin, was rated as the No. 2 catcher in Wisconsin by Prep Baseball Report. He hit .389 with eight home runs as a junior at Port Washington High School.
Kinzer is a top 500 recruit by Perfect Game and was a 2016 honorable mention All-American by Rawlings/Perfect Game. He was also a 2016 second-team All-Central Region selection by Rawlings and was a Prep Baseball Report Futures Games invitee in 2014.
"Jack is an excellent catcher with all the tools to be a great college player," said Heller. "Another strength is his make-up and leadership skills. We are glad Jack will be a Hawkeye and our coaching staff looks forward to working with him."
The duo joins a recruiting class of 11 that was ranked third-best in the Big Ten Conference by Perfect Game. The now 13-player class consists of three junior college players and 10 top-500 players by Perfect Game.
The Hawkeyes signed Tyler Cropley (C/OF, McCook Lake, S.D.), Kyle Crowl (SS, Council Bluffs, Iowa), Matt Hoeg (IF, Waukee, Iowa), Justin Jenkins (OF, Terre Haute, Ind.), Grant Judkins (3B/RHP, Pella, Iowa), Kole Kampen (LHP, Fort Dodge, Iowa), Adam LaRock (SS/OF, Eau Claire, Wis.), Connor Lindaman (1B, Davenport, Iowa), Kace Massner (OF, Burlington, Iowa), Ben Norman (OF, Des Moines, Iowa), and Cole Pennock (LHP, Clinton, Iowa) in November, 2015.