24 Hawkeyes to Watch | Box Score (PDF) | Boxscore
WINSTON-SALEM, N.C. — The University of Iowa field hockey team opened its regular season with a 2-1 victory over seventh-ranked Wake Forest on Saturday at Kentner Stadium in the ACC/Big Ten Challenge. The win marks the second straight season Iowa has defeated Wake Forest by a one-goal margin, and marks its sixth consecutive victory over the Demon Deacons. 
The Hawkeyes got on the board first scoring off of a corner in the eighth minute. Redshirt senior Natalie Cafone scored her first goal of the season to give the Hawkeyes an early, 1-0 lead. Sophomore Makenna Grewe and junior Melissa Progar earned assists on the goal.
Iowa (1-0) extended its lead later in the first half, scoring on another corner. Senior Chandler Ackers scored in the 21st minute that was set up by freshman Katie Birch to double the Hawkeyes' advantage. Iowa scored the two first-half goals on four shots.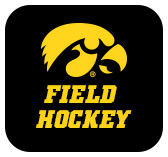 The Hawkeyes had opportunities to extend their lead with corners in the 47th and 50th minute. Freshman Sophie Sunderland's shot was saved in the 47th minute, and Birch sent her shot just wide in the 50th minute.
Wake Forest (0-1) cut Iowa's lead in half in the 57th minute, and pulled its goalie in the 66th minute in efforts to tie the match, but strong defense by the visitors helped defend against a corner in the last seconds off the match and secure the victory.
"That was a great team win over the seventh-ranked team in the country," said UI head coach Lisa Cellucci. "We played great team defense and capitalized on our offensive opportunities."
Iowa had a total of nine shots, including five from Cafone, and also had four corners. Senior goalkeeper Alexandra Pecora made two saves to collect her first win of the 2016 season.
The Hawkeyes are back in action tomorrow as they face top-ranked North Carolina in the ACC/Big Ten Challenge at 1 p.m. (CT).