Hawkeye Fan Shop — A Black & Gold Store | 24 Hawkeyes to Watch 2016-17 | Hawkeyes in the NBA | Hawk Talk Monthly — September
Editor's Note: The following first appeared in the University of Iowa's Hawk Talk Daily, an e-newsletter that offers a daily look at the Iowa Hawkeyes, delivered free each morning to thousands of fans of the Hawkeyes worldwide. To receive daily news from the Iowa Hawkeyes, sign up HERE.
By JAMES ALLAN
hawkeyesports.com
IOWA CITY, Iowa — Ahmad Wagner is ready to build on his "energy-guy" role with the University of Iowa men's basketball team. 
 
As a freshman Wagner filled the role admirably, spelling Adam Woodbury in the post, rebounding, and being a spark plug off the bench.  Wagner's prepared for more as a sophomore.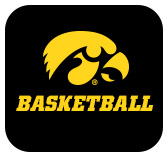 "You'll see a guy who's going to play a little differently," said UI head coach Fran McCaffery. "Last year he was a physical presence and a versatile front-court player.  He was an efficient offensive player, but he didn't shoot a lot. When he did, he scored. 
 
"Now you'll see a guy that will be more aggressive offensively and be more aggressive with the ball. He's stronger and in better shape than he has ever been in his life."
 
Wagner played in 32-of-33 games as a freshman, where he averaged 2.6 points and 2.6 rebounds in 10.1 minutes per game.  The forward shot 68.1 percent from the field and posted career-highs in points (11) and rebounds (nine) in a Big Ten Conference home matchup against Indiana in March.
 
"Last year I was too one-dimensional," said Wagner. "My role has changed to being more offensive-minded. I have to be able to score the ball in different ways — off the dribble and shooting. I have improved those parts of my game tremendously in the offseason."
 
Sophomore Christian Williams expects to see Wagner continue as a defensive and rebounding force, but he says there's more in store in 2016-17.
 
"He is so athletic," said Williams. "He can handle the ball; I don't think many people got to see that last year with him coming in at the five (post position). He has also improved his shot. He can play a lot better around the arc."
 
Wagner is an imposing athlete at 6-foot-7, 235 pounds. His versatility gives the Hawkeyes a player that can slide in at small forward, power forward, or center.
 
"If we want to go big, I will move to the three, where I'll have to handle the ball more," said Wagner. "I am more comfortable off the dribble now more so than last year."
 
It's a part of Wagner's game that intrigues senior Peter Jok.
 
"He has the quickest first step I have ever seen," said Jok. "Nobody can stay in front of him if he's on the perimeter. If he plays and doesn't think a lot, he'll have a lot of mismatches.  We'll need him to step up.
 
"We'll need a lot of guys to step up this year. I think they're up to it."
 
Wagner is one of seven returning lettermen on the roster to go along with seven freshmen. With just three upperclassmen on the roster, Wagner is taking it upon himself to have a bigger voice both on and off the court.
 
"We have Pete and a lot of players returning, but with seven new guys coming in, someone has to put their arm around them," said Wagner. "I want to be that guy for them, be a leader, and show them the ropes.
 
"I feel like I am going to be more of a vocal leader for this team and help the team in a lot of departments."