Hawkeye Fan Shop — A Black & Gold Store | 24 Hawkeyes to Watch 2016-17 | Hawk Talk Monthly — Nov. 2016 | Buy Women's Basketball Tickets
Editor's Note: The following first appeared in the University of Iowa's Hawk Talk Daily, an e-newsletter that offers a daily look at the Iowa Hawkeyes, delivered free each morning to thousands of fans of the Hawkeyes worldwide. To receive daily news from the Iowa Hawkeyes, sign up HERE.
By JAMES ALLAN
hawkeyesports.com
IOWA CITY, Iowa — There is quality and quantity in the University of Iowa women's basketball freshman class.
 
The five newcomers — guards Bre Cera, Kathleen Doyle, Makenzie Meyer, and Alexis Sevillian and forward Amanda Ollinger — make up the nation's seventh-rated recruiting class by Blue Star, but they're not resting on their laurels.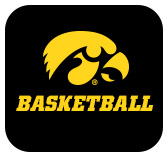 "We haven't done anything until we help the team on the court during the season," said Doyle, a LeGrange Park, Illinois, native. "We're honored that we are the seventh-ranked class, but we just want to go out and get better every day."
 
The class features Miss Basketballs from Illinois and Iowa, five McDonald's All-America nominees, and three top-100 recruits by ESPN HoopGurlz. Collectively, the group is the highest-ranked class in UI head coach Lisa Bluder's tenure.
 
"This freshmen class has been impressive," said senior Ally Disterhoft. "We knew they were highly-ranked coming in and they continue to impress. They have an incredible work ethic and bring a lot of energy that's contagious."
 
Meyer and Doyle were rated No. 79 and No. 97-best recruits nationally; Meyer was Iowa's Miss Basketball, Doyle earned the same honor in Illinois.
 
"Makenzie is a freshman who doesn't make mistakes," said Bluder. "She learns, retains knowledge, and takes it back to practice the next day. That sounds easy, but sometimes with freshmen they learn one day and forget the next. That's not the case with Makenzie."
 
Meyer is known for 3-point shooting. She watched as Melissa Dixon became one of the most prolific shooters in Iowa history and hopes to do the same.
 
"The coaches remind me to keep shooting and to be confident with my shot," said Meyer. "I want to keep improving."
 
Bluder calls Doyle a winner…with spunk.
 
"She has a great joy about her," said Bluder. "She has a great spunk that brings life to everybody. She's a competitor and wants to win."
 
Doyle was point guard at Benet Academy, leading the team to back-to-back state titles. She'll do whatever is asked to contribute as a Hawkeye.
 
"I am used to being the point guard, but whatever gets me on the court is what I want to do," said Doyle. "I am going to work hard every day, give my all, and hopefully that comes with results. I try to bring versatility to the table and fill whatever role my coaches want me to."
 
Cera is a scrappy, 5-foot-10 guard who does the dirty work. She has impressed teammates with her hustle and the energy she brings on the glass.
 
"Bre has been doing a great job doing the things people don't want to do," said sophomore Megan Gustafson. "She is diving on the floor and getting rebounds that people wouldn't think she would get."
 
"I love how hard she works every possession," said Bluder. "She can defend, rebound at both ends of the floor, and I love the energy she brings to the floor."
 
Sevillian was a finalist for Michigan Miss Basketball as a senior after averaging 22.9 points per game. She reunites with a high school and AAU teammate Tania Davis as a Hawkeye.
 
"Tania and I did good things back in Michigan," said Sevillian. "Being able to come here and have the same opportunity to do that is great. There isn't any other point guard I would rather play with than Tania."
 
Ollinger, a Linn-Mar (Iowa) High School graduate, is the lone frontcourt player and is another top 100 recruit. The forward is a mismatch waiting to happen.
 
"I love her size and athleticism," said Bluder. "At 6-foot-1, she can shoot 3s with ease, but can also get on the boards and post-up anybody. She has to learn how to use her strengths, and once she does, she is going to be a great contributor for us."
 
The Hawkeyes had two Big Ten All-Freshman team selections in 2016. Senior Alexa Kastanek believes any of this year's five freshmen could follow suit.
 
"All of our freshman, in their own way, could be game-changers," said Kastanek. "Doyle is a great point guard, Makenzie can hit 3s like nobody else, Amanda, as a four, runs the floor and shoots the ball well, Bre gets more offensive rebounds than anybody in practice, and Alexis brings this energy and fire that she's never going to quit.
 
"I think any of the freshman, at any point, could step up and be key contributors in any role."
 
It's the quality and quantity of a top 10-rated recruiting class.