Hawkeye Fan Shop — A Black & Gold Store | 24 Hawkeyes to Watch 2016-17 | Hawk Talk Monthly — Nov. 2016
Editor's Note: The following first appeared in the University of Iowa's Hawk Talk Daily, an e-newsletter that offers a daily look at the Iowa Hawkeyes, delivered free each morning to thousands of fans of the Hawkeyes worldwide. To receive daily news from the Iowa Hawkeyes, sign up HERE.
By JAMES ALLAN
hawkeyesports.com
IOWA CITY, Iowa — Michael Kemerer didn't waste time during his first season in the Dan Gable Wrestling Complex.
 
The Murrysville, Pennsylvania, native approached each day of 2015-16 with intensity and a focus on improving.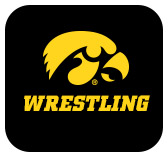 "It's your redshirt year, maybe you don't compete as much, but it's not a year to waste," said Kemerer at Iowa's media day Nov. 2. "You have to take advantage of every day and opportunity."
 
Kemerer, now a redshirt freshman, won four tournaments at 149 pounds last season, including the Duhawk, Grand View, Harold Nichols, and Joe Parisi opens.  He was fifth at the Midlands Championships, going 6-2 with his losses coming by a combined three points against two top-seven opponents.
 
With two-time returning All-American Brandon Sorensen returning at 149 pounds for the Hawkeyes, Kemerer moved up to 157 pounds to potentially join Sorensen in the lineup.
 
"This offseason I focused on getting better and stronger and improving my wrestling," said Kemerer, who was 24-2 last season. "I started to step on the scale and weigh a little more and started to realize (157) might be a better option.
 
"It was a gradual thing and once I made the decision, I made the decision. I am all-in now."
 
UI head coach Tom Brands didn't recruit Kemerer to be a wild card.  In high school, Kemerer was a three-time Fargo All-American, four-time Super 32 finalist, and three-time Pennsylvania state runner-up.  He trained with Young Guns Wrestling Club under the direction of former Iowa All-American Jody Strittmatter.
 
"We recruited him to do a job and he embraces that," said Brands. "He has been tough and he's growing up. He took good steps last spring at the University Nationals by the way he talked to himself in frustrating situations."
 
Brands was alluding to the UWW Junior Freestyle National Championships in Las Vegas where Kemerer bonus-pointed his way to the finals with a pin and three technical falls in the 154.25-pound division.  He defeated Evan Wick, 9-8, to claim the title.
 
Kemerer enters his first true collegiate season ranked anywhere from seventh by InterMat to 13th by WIN Magazine and Amateur Wrestling News.  One of Kemerer's high school sparring partners, Penn State's Jason Nolf, is the nation's top-rated 157 pounder.
 
"We have been wrestling since we were 6 or 7 years old," said Kemerer. "It's one of those things where we have wrestled a lot over the years and it's cool to see that and with us being on different teams.  That's one of the guys I have to beat; it's just like any other guy."
 
Kemerer says he's in a good place mentally entering the season.
 
"I have been working with the coaches on philosophy," he said. "I had a good philosophy coming into college, but it's about bringing it every day to the room.  I am ready to get better at scoring points and being open to challenges."
 
And Kemerer isn't wasting time.