Hawkeye Fan Shop — A Black & Gold Store | 24 Hawkeyes to Watch 2016-17 | Hawkeyes in the NBA | Hawk Talk Monthly — Nov. 2016 | Single Game Men's Basketball Tickets | McCaffery Transcript (PDF)
By JAMES ALLAN
hawkeyesports.com
IOWA CITY, Iowa — University of Iowa head men's basketball coach Fran McCaffery has seen the Hawkeyes grow in a scrimmage and exhibition game, but Friday night is different.
 
Iowa opens the regular season with two games in a span of 42 hours on Mediacom Court inside Carver-Hawkeye Arena, hosting Kennesaw State at 8:35 p.m. (CT) Friday and squaring off against Savannah State on Sunday at 2:35 p.m.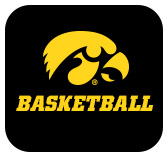 "We've had practice, an exhibition game, and scrimmage, but this is different," McCaffery said during a Wednesday news conference. "We'll see what the guys do in-game and who can perform well when the lights come on."
 
The Hawkeyes are prepared for the official start of the 2016-17 season, but UI sophomore Ahmad Wagner expects there to be some pregame butterflies.
 
"It's the first game, so there will be jitters for the freshmen and for the older guys, too," said Wagner. "But everyone is excited; we need to come out prepared and do what we do."
 
The Hawkeyes played a closed scrimmage in the preseason and were victorious in an exhibition contest, defeating Regis, 95-73, on Nov. 4.  McCaffery wasn't thrilled with the team's overall consistency level.
 
"That has been a trend since June," he said. "We look good some days and OK some days. Individually there are days when guys are spectacular and then there are days when they go missing.  That's not uncommon with a young team."
 
The Hawkeyes went 11-deep in the exhibition victory and that didn't include freshman Ryan Kriener or junior Brady Ellingson, who missed the game because of injury. Both are expected to be available Friday.
 
"Getting 13 players in would be tough," said McCaffery. "I don't know that I have ever had a team that had a lot of guys that deserved to play. They all do.  It's going to be interesting to see how that shakes out."
 
There's a trade-off when it comes to having a deep bench.  On one hand, players are constantly fresh, but on the other, it can be difficult for players to get into a groove.
 
"You have to be ready to play and be ready when your number is called," said freshman Tyler Cook, who is expected to be in the starting lineup along with senior Peter Jok, junior Dom Uhl, and sophomores Christian Williams and Nicholas Baer. "It's challenging to find a rhythm when you're being put in and out, but we haven't played our first game yet, so we'll figure it out soon."
 
The first go-round takes place Friday against Kennesaw State, a member of the Atlantic Sun Conference. The Owls are coached by veteran Al Skinner, who went 11-20 in his first season at Kennesaw State. Skinner has three starters returning, including sophomore Kendrick Ray, who averaged 18.7 points en route to being named A-SUN Newcomer of the Year honor.
 
"(Coach Skinner) is an established coach; he knows what he is doing," said McCaffery. "They run good offense, compete, and are athletic. He has pieces that can play, so it is a difficult task for us right out of the gate for a team that will be ready to go."
 
McCaffery commented on one of Iowa's two 2016-17 signees for the first time Wednesday. Luka Garza signed a National Letter of Intent, while a second player is expected to sign Thursday.
 
Garza's game was compared to former Boston Celtic great Kevin McHale and the 6-foot-10 center drew comparisons to current NBA center Marc Gasol.
 
"I saw him two years ago and fell in love with his game," said McCaffery. "What's interesting is how his game has transformed. He's a rare combination of a guy with a good low-post game, who can stretch the floor and make 3s.  He understands how to compete on every possession, and that's a rare combination when you have a guy who is 6-10 with a 7-3 wing span."
 
Tickets are available for both Friday and Sunday's games through the UI Athletics Ticket Office. Fans should take note on parking for Friday's game against Kennesaw State by clicking HERE.