Hawkeye Fan Shop — A Black & Gold Store | 24 Hawkeyes to Watch 2016-17 | Hawk Talk Monthly — Nov. 2016 | 24 Hawkeyes to Watch: Sammy Brooks | Carton Seeks March Mat Time
By DARREN MILLER
hawkeyesports.com
IOWA CITY, Iowa — Sam Stoll is a University of Iowa sophomore 285-pound wrestler from Kasson, Minnesota. He owned a record of 20-2 during his redshirt freshman season before injuring a knee against North Carolina State on Feb. 22, 2016. He finished the season 22-6 and advanced to the NCAA Championships.
 
What is the main difference between your true freshman season and the redshirt freshman season?
I had a lot more success last year (in my redshirt freshman season) because I had another year under my belt. It had a lot to do with training and I matured a lot. I had a pretty decent year.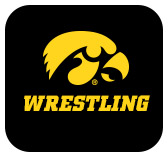 Can you describe what your first season in 2014-15 was like?
It was getting me ready for the big show. There were a lot of areas I needed to work on and there are still a lot of areas I am working on. That true freshman year helped me a lot.
 
How beneficial was that for you to get the first "real" season under your belt?
Very beneficial. Now it's my second season; I have one more year of experience and another year of training and wrestling at that level.
 
Where will Hawkeye fans see the biggest improvement from you this season?
We'll see. I hope to put out some good, hard wrestling.
 
Coach Tom Brands wants you to keep being a pinning machine. What is the key to being a pinner?
Wrestling at a high pace and not relaxing. Guys that don't want to wrestle that hard tend to crumble.
 
How difficult was the end of last season for you mentally and physically when you suffered the knee injury?
It wasn't fun. I wish it would have been different, but you're put in situations and you play the hand you're dealt.
 
Did you take anything positive out of that situation?
You learn from any experience, especially any tough experience, and that was a tough experience. I look to go forward.
 
Can you touch on what it's like to compete in the Big Ten Conference?
It's great. The Big Ten has a tradition of being the toughest conference in wrestling and it's great to go through that grind. I look forward to every week and look forward to competing.
 
Who are your training partners in the Dan Gable Wrestling Complex?
We still have (Bobby) Telford here with the Hawkeye Wrestling Club, coach (Ben) Berhow, and then I will work out with the 197-pounders every now and then. I have good partners in the room.
 
Is there a timeline for your return to the mat?
We'll sit down and ultimately me, Terry, and Tom will make a decision on when I'll come back. It has been a struggle. It's not fun to sit on the sidelines and do rehab and watch my teammates wrestle, but it is something that can help me and I can only go forward.
 
Is there a rush to come back?
There is a hurry as far as I want to get out there and compete, but I have to do what is right for me and my health. I don't want to come back too soon and not be ready to go. When I come back, I want to be ready to go better than I was last year.