Hawkeye Fan Shop — A Black & Gold Store | 24 Hawkeyes to Watch 2016-17 | Hawkeyes in the NBA | Hawk Talk Monthly — Nov. 2016
Editor's Note: The following first appeared in the University of Iowa's Hawk Talk Daily, an e-newsletter that offers a daily look at the Iowa Hawkeyes, delivered free each morning to thousands of fans of the Hawkeyes worldwide. To receive daily news from the Iowa Hawkeyes, sign up HERE.
By RICK BROWN
hawkeyesports.com
IOWA CITY, Iowa — Nicholas Baer is living out his dream of playing basketball for the University of Iowa.
 
Through hard work and determination, this former walk-on is now a scholarship starter. But if not for an assist from his older sister, Elizabeth, this dream come true may have never taken flight.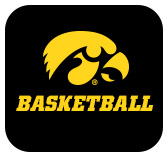 "Occasionally she'll say, 'Hey, don't forget,'" said Baer, a 6-foot-7 sophomore forward from Bettendorf, Iowa. "I'm never forgetting."
 
Elizabeth, a senior political science major at the UI, knew her brother had his heart set on playing for the Hawkeyes. So she took matters into her own hands.
 
In the fall of 2013, when Nicholas was a senior at Bettendorf High School, Elizabeth walked into the Iowa basketball office and asked to speak with assistant coach Kirk Speraw.
 
"She said, 'Hey, you have to look at my brother, he wants to come here,'" Nicholas said. "It's totally something Elizabeth would do. She called me that night and said, 'Hey, I stopped by the basketball office and talked to them about you.' I said, 'What? I mean, thanks.'"
 
A few months later, UI head coach Fran McCaffery was at Wells Fargo Arena in Des Moines watching his son, Connor, play for Iowa City West at the state tournament. The Trojans beat Bettendorf in the semifinals, 49-46, despite Baer's 22 points and 13 rebounds.
 
McCaffery was intrigued. So was Speraw, who saw Baer play while recruiting someone else. Iowa offered a preferred walk-on spot. So did Northern Iowa and Drake. Baer also had a scholarship offer from Northwest Missouri State, an NCAA Division II program.
 
It wasn't a tough decision for Baer.
 
"I was born in Iowa City, and lived here until we moved to Bettendorf in first grade," Baer said. "We always came back for the football games. I've always been a Hawkeye fan. Even if I wasn't a basketball player, I'd rather come here than go to any other school."
 
Nicholas was in grade school when he first started attending Iowa basketball camps when Steve Alford was coach.
"I remember Greg Brunner, Jeff Horner, and Adam Haluska," Baer said. "I'd see those guys when I came to camp."
 
Baer recalls meeting with McCaffery and receiving a preferred walk-on position.  No guarantees, only opportunity.
 
"He said, 'If you can prove that you can be a scholarship player and get in the rotation and play, then you'll earn a scholarship,'" Baer recalled.
 
Baer redshirted during the 2014-15 season, but opened some eyes during practice.  Under the guidance of Speraw, he worked to develop an outside jumper. He spent time in the weight room, trying to get stronger. He didn't approach the 2015-16 season with a chip on his shoulder.
 
"I think sometimes it can almost be a poison, to try and be focused so much on trying to prove people wrong that you're not focusing on yourself," Baer said. "I think at the end of the day I have to be the best player I can be for my team."
 
Baer played in all 33 games last season, averaging 4.8 points, 2.6 rebounds, and shooting 39.4 percent from 3-point distance.
 
Last spring, McCaffery lived up to the promise. He rewarded Baer with a scholarship.
 
"A lot of players value that, just that evaluation of fairness," Baer said.
 
And even though he'd prefer to bring Baer's energy off the bench, McCaffery has him in the starting lineup.
 
"He deserves to be in there," McCaffery said. "He does too many good things at both ends."
 
McCaffery compares Baer to Anthony Clemmons, a senior on last season's team. McCaffery wanted to bring Clemmons' energy off the bench, too, but started him because he earned it.
 
"I'm honored to be put in the same category as Anthony Clemmons," Baer said. "He was a great Hawk who worked so hard. That's something every player appreciates about coach McCaffery. He's not going to hold anything back, by any means. If you earn something, he's going to give it to you."
 
Baer's goal remains to work to become the best player he can be, but he's made some adjustments.
 
"I've always had goals that were more tangible," Baer said. "Achieving a scholarship, things like that. Now I can focus on the intangibles, like being a leader on this team, progressing with these newer guys, and working with our coaching staff to better our program and improve our culture."
 
Baer is averaging 9.5 points and 2.5 rebounds heading into Thursday's 8 p.m. (CT) game with Seton Hall in a Gavitt Tipoff Games matchup on Mediacom Court inside Carver-Hawkeye Arena.
 
Baer had a career-high six assists Sunday against Savannah State, but he owes his sister, Elizabeth, for the biggest assist of his basketball career.