Hawkeye Fan Shop — A Black & Gold Store | 24 Hawkeyes to Watch 2016-17 | Hawk Talk Monthly — Nov. 2016 | 24 Hawkeyes to Watch: Sammy Brooks | Q & A with Sam Stoll | Topher Carton feature | Carter Happel feature | Lindenwood recap & results | Iowa City Duals recap
Editor's Note: The following first appeared in the University of Iowa's Hawk Talk Daily, an e-newsletter that offers a daily look at the Iowa Hawkeyes, delivered free each morning to thousands of fans of the Hawkeyes worldwide. To receive daily news from the Iowa Hawkeyes, sign up HERE.
By CHRIS BREWER
hawkeyesports.com
IOWA CITY, Iowa — His bark is mature, respectful, and polite. But his bite will hurt you.
 
University of Iowa redshirt freshman wrestler Michael Kemerer, also known as Kem-Dawg in his inner circle, showed Hawkeye fans what they hoped to see when the highly-touted Pennsylvania native finally donned the black singlet inside Carver-Hawkeye Arena.
 
He scored points. He won big. He dominated. It was just as he was coached to do.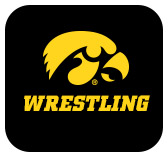 "We (the freshmen) are trying to live up to the philosophy, which is score points and win big and dominate. That's the goal every time," Kemerer said after making his home debut Nov. 18 at the Iowa City Duals.
 
The Hawkeyes' home opener, which started at 9 a.m. (CT) on a weekday, didn't set attendance records, but those who filled the seats saw something special at 157 pounds.
 
Sixteen seconds into his first match, Kemerer had a takedown. One minute, 45 seconds later he secured the fall. His second match didn't end in a fall, but may have been more impressive. Six seconds after the whistle, a takedown. Before the first minute had passed, he scored four nearfall points… twice. He released his opponent to get back on his feet, but soon returned to the mat with a takedown, four more nearfall points, and a 16-1 technical fall with 29 seconds to spare in the first period.
 
It was a solid debut by most standards, and it was a long time coming.
 
"It was pretty awesome," Kemerer said of wrestling in Carver-Hawkeye Arena for the first time. "It's something I've been thinking about for a long time. I've been here over a year, so I've been waiting for it. It was nice to get out there."
 
Kemerer was 24-2 competing unattached at 149 pounds last season. He bumped up a weight class this year with two-time All-American Brandon Sorensen occupying the 149-pound spot. In his first competition at 157, he recorded three technical falls and a pin to win a title at the Luther Open on Nov. 12.
 
He did more of the same in his home debut, running his season record to 6-0 with four technical falls and two pins. He has yet to test himself against Division I opponents, but that will change in the next three weeks with Purdue, South Dakota State, and Iowa State on the schedule.
 
"It doesn't matter who the opponent is," Kemerer said. "I focus on what I do more than focusing on what my opponent does. Maybe the competition gets steeper, but I'm still thinking about myself. Preparing and looking to score."
 
Purdue and South Dakota State are both road duals. When Iowa State visits Carver-Hawkeye Arena on Dec. 10, the home crowd will be substantially different than the one Kemerer experienced in his home opener. It will be like experiencing Carver-Hawkeye Arena again for the first time.
 
"I don't think about the atmosphere too much," Kemerer said. "I think about getting to my attacks, keeping it simple, and scoring. At the same time, you can hear the crowd after the match and it's pretty cool."
 
Kemerer maintains a steady approach and his expectations never change.
 
"The goal is to win and dominate every time I step on the mat."