Hawkeye Fan Shop — A Black & Gold Store | 24 Hawkeyes to Watch 2016-17 | Hawk Talk Monthly — Nov. 2016 | Photo Gallery
By JAMES ALLAN
hawkeyesports.com
SAONA ISLAND, D.R. — It was a day of R & R for the University of Iowa baseball team.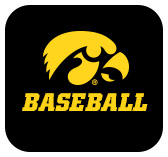 After playing three games in as many days and taking part in community service, the Hawkeyes spent Wednesday visiting Saona Island — a tropical paradise located a short distance from the mainland on the southeast tip of the Dominican Republic.
 
Iowa took a sail boat to the island, which has been used by several filmmakers because of its white sand beaches and clear blue water. The Hawkeyes took in the scenery, played football and sand volleyball and rounded out the trip by searching for starfish in a cove where half of the movie Pirates of the Caribbean was filmed.
 
"One of the best parts of the day was the boat ride over," said junior Nick Allgeyer. "It was an hour and a half boat ride and we all got to lay in netting in the front of the boat.  That was a relaxing part for me.
 
"A lot of people played volleyball and football during the day, we got to watch a lot of the Dominicans play baseball the way they grow up playing it with little tennis and tree branches.  That was cool to see."
 
The island excursion was a chance for the Hawkeyes to come together off the field.
 
"Going to see some of the rough parts of the Dominican (early in the week) was a humbling experience," said Allgeyer. "But this was also nice to come out here, relax and take a day to bond with and get to know some of our teammates a little better. It was a fun day."
 
The Hawkeyes close out play in the Dominican on Thanksgiving Day, facing the Kansas City Royals Academy at 8:30 a.m. (CT).  Iowa returns to the United States on Friday.
 
"Today's going to help us be able to come back out tomorrow and hopefully win a ball game," said Allgeyer.