Hawkeye Fan Shop — A Black & Gold Store | 24 Hawkeyes to Watch: Sammy Brooks | Hawk Talk Monthly — Dec. 2016 – http://catalog.e-digitaleditions.com/i/757416-december-2016 | Match Notes PDF
Editor's Note: The following first appeared in the University of Iowa's Hawk Talk Daily, an e-newsletter that offers a daily look at the Iowa Hawkeyes, delivered free each morning to thousands of fans of the Hawkeyes worldwide. To receive daily news from the Iowa Hawkeyes, sign up HERE. 
 
IOWA CITY, Iowa — Podiums, periods, rivalries, whatever it may be — University of Iowa head wrestling coach Tom Brands likes to finish on top.
 
When it comes to in-state supremacy, Hawkeye wrestling has been the heavy star on top of the Whoville Christmas tree.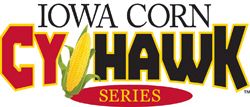 Iowa has won the last 12 meetings against Iowa State and aims to run its streak to 13 when the Cyclones visit Carver-Hawkeye Arena on Saturday at 7 p.m. (CT).
 
That's 12 wins in 11 years (Iowa swept a pair of duals in 2009-10). Iowa State's last victory was on Dec. 5, 2004. George W. Bush was 33 days removed from a being elected to a second presidential term. Tom Brands was living in Blacksburg, Virginia, with six career duals wins to his credit (last week he won his 200th career dual), and four Hawkeyes in Saturday's probable lineup were in second grade.
"I know it's the big in-state rivalry," said Pennsylvania native Michael Kemerer, who was one week from celebrating his eighth birthday the last time the Cyclones prevailed. "I got to see the meet last year and I've seen the football and basketball rivalries. I know it's a pretty big deal and I'm excited to be a part of it."
 
Kemerer, ranked No. 4 at 157 pounds, is one of six Hawkeyes set make their Cy-Hawk Series debut. Phillip Laux (133), Topher Cartron (141), Cashe Wilcke (197) and Steven Holloway (285) will wrestle at their respective weights, and the Hawkeyes list two rookies at 165 — redshirt freshman Joey Gunther and true freshman Alex Marinelli.
 
The Cyclones will also introduce a number of wrestlers to the rivalry, but how many remains to be seen. Iowa State lists 18 names on its probable lineup, and only six have Cy-Hawk experience.
 
What that means is both teams have young guys who had little to do with the past results.
 
"They're after the same thing we are; we have to be ready," said Brands, who is 11-0 all-time against Iowa State. "There is going to be 10 matches contested in this dual meet and we have to be ready for every one of them at the highest level."
 
Iowa will be without two-time NCAA finalist Cory Clark, who is 3-0 all-time in the Cy-Hawk Series, and heavyweight Sam Stoll, who recorded a fall in his lone Cy-Hawk appearance last season. But the Hawkeyes will have All-Americans Thomas Gilman (125), Brandon Sorensen (149), Alex Meyer (174), and Sammy Brooks (197).
 
That quartet has a combined eight Cy-Hawk Series appearances and has never seen the result swing any direction but toward the Hawkeyes. In 2010, the schools introduced the Dan Gable Traveling Trophy to the rivalry and it's found a permanent home in Iowa City ever since.
 
"It's another meet," said Sorensen, a native of Cedar Falls, Iowa, and the nation's second-ranked 149-pounder. "You get up for it and it's always good to see the Hawkeyes come away with it. That's the goal and let's keep it that way. Let's give them no hope.  Let's keep the score wide — lopsided and one-sided."
 
"They've been vocal about being able to knock us off, or the time is coming and we know it and they know it," Brands said. "That's something I remember and we'll remind our guys of that. The bottom line is you go out you don't get too hyped; relax and wrestle your match. Do what you do best."
 
Tickets to Saturday's dual are available at hawkeyesports.com. Admission for adults is $15, youth 18-and-younger is $10. UI students and youth 18-years-old and younger are admitted free of charge, but everyone must have a ticket.
 
Iowa Corn Cy-Hawk Series
2016-17 marks the sixth year Iowa Corn has sponsored the Cy-Hawk Series, which tracks the head-to-head match-ups between the two universities, with each victory earning points toward the overall series championship. Iowa Corn developed the CORN: IT'S EVERYTHING campaign to educate consumers about all the amazing things that come from corn.  Corn is used to make more than 4,000 everyday products – everything from bacon cheeseburgers, to soap and lipstick, fireworks and even fuel for your vehicle! It all contains corn and is grown by farmers in our great state.