Hawk Talk Monthly — Dec. 2016 | 24 Hawkeyes to Watch: Sammy Brooks | Hawkeye Fan Shop — A Black & Gold Store | Midlands Notes PDF
 
EVANSTON, Illinois —   The University of Iowa wrestling team closed out the opening session of the 54th Ken Kraft Midlands Championships on Thursday with an individual record of 25-9 and leading the team race with 45 points. The Hawkeyes are followed by Rutgers (42.5), Nebraska (39.5), Illinois (36.5), and Arizona State (34).
 
First-seeded Thomas Gilman recorded 27 takedowns, two technical falls, and a pin over three matches to advance through the Championship bracket at 125. In his first contest of the day, Gilman pinned Donald Keeley (Brown) at 3:35 and went on to land a 24-7 technical fall over Justin Patrick (Buffalo). He collected another tech fall (25-10) against Jens Lantz (Wisconsin) to finish the first session.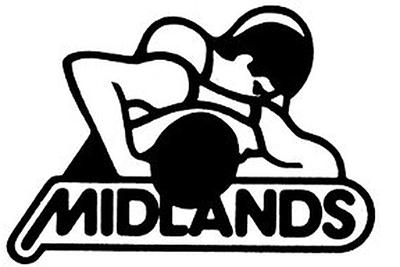 At 133 pounds, Philip Laux is fighting through the consolation bracket after falling 3-2 to the ninth-seeded Bryan Lantry (Buffalo) in the first round. Laux went on the defeat Alijah Jeffrey (Northern Illinois) with a 10-1 major decision, securing him a bout against the 14-seed Luke Welch (Purdue) in the second session.
 
Topher Carton advanced to the quarterfinals at 141 with a 10-2 major decision over Isaac Andrade (South Dakota), a pin recorded at 4:10 against Trevor Feagans (SIU Edwardsville), and a 14-10 decision victory against 10th-seeded Mike Longo (Oklahoma).
 
Brandon Sorensen, seeded first at 149 pounds, earned a 9-2 decision over South Dakota's Alex Kocer before going on to pin 16th-seeded Davion Jeffries (Oklahoma) at 6:17. The fall was Sorensen's fourth of the season and he is one win away from becoming the ninth University of Iowa wrestler to join the prestigious 20-in-4 club, recording at least 20 wins in their first four years of Midlands competition.
 
Second-seeded Michael Kemerer (157) advanced to the quarterfinals for the second time in as many years. The redshirt freshman recorded two major decisions, 12-3 over Cullen Cummings (Ohio) and 18-6 against Carver James (Illinois), and a 9-6 decision over the 15th-seeded Hayden Hidlay (NC State).
 
Freshmen Alex Marinelli and Kaleb Young, both wrestling unattached, will make their first quarterfinals appearances in the 165-pound bracket. Marinelli posted a pin over Clayton Bass (SIU Edwardsville) and a 10-6 decision against the No. 8 seed Andrew Fogarty (North Dakota) to advance. Young gathered two decisions over seeded opponents – 14th-seeded Jacen Petersen of Arizona State and third-seeded Clark Glass of Oklahoma — to join his teammate in quarterfinal competition. Redshirt freshman Joey Gunther, also competing at 165 pounds, will continue in the consolation bracket after falling 3-2 to Tyrel White (Columbia) in the first round.
 
Alex Meyer and Sammy Brooks will be making their third consecutive quarterfinals appearances at 174 and 184 pounds, respectively. Meyer recorded two major decisions to solidify his berth, while fellow senior Brooks tallied a pin and a major decision.
 
At 197 pounds, redshirt freshman Cash Wilcke started his day off strong with a 13-3 major decision over SIU Edwardsville's Jake Tindle. In a battle with the No. 2 seed Riley Lefever, Wilcke fell 5-4 due to a penalty point for stalling, placing him in consolation competition this evening.
 
Third-seeded Sam Stoll will be competing in the quarterfinals at heavyweight after collecting a 5-1 decision over Buffalo's Jake Gunning and an 8-3 victory against the 14-seed Dean Broghammer (Grand View). Stoll is 24-6 overall this season and will be competing in his second Midlands quarterfinals in as many years.
 
Session II of the Midlands Championships begins at 7 p.m. (CT) tonight. Updated team standings and complete tournament brackets are available throughout the tournament at nusports.com and on trackwrestling.com.
 
 
SESSION I CHAMPIONSHIP BRACKET (# indicates tournament seed)
125 – #1 Thomas Gilman (IA) pinned Donald Keeley (Brown), 3:35
125 – #1 Thomas Gilman (IA) tech. fall Justin Patrick (Buffalo), 24-7
125 – #1 Thomas Gilman (IA) tech. fall Jens Lantz (Wisconsin), 25-10
133 – #9 Bryan Lantry (Buffalo) dec. Phillip Laux (IA), 3-2
141 – #7 Topher Carton (IA) major dec. Isaac Andrade (SDST), 10-2
141 – #7 Topher Carton (IA) pinned Trevor Feagans (SIU Edwardsville), 4:10
141 – #7 Topher Carton (IA) dec. #10 Mike Longo (Oklahoma), 14-10
149 – #1 Brandon Sorensen (IA) decision Alex Kocer (SDST), 9-2
149 – #1 Brandon Sorensen (IA) pinned #16 Davion Jeffries (Oklahoma), 6:17
149 – #7 Kenny Theobold (Rutgers) decision Jerren Glosser (IA), 4-0
157 – #1 Tyler Berger (Nebraska) tech. fall Skyler St. John (IA), 15-0
157 – #2 Michael Kemerer (IA) major dec. Cullen Cummings (Ohio), 12-3
157 – #2 Michael Kemerer (IA) major dec. Carver James (Illinois), 18-6
157 – #2 Michael Kemerer (IA) dec. #15 Hayden Hidlay (Unat. NC State), 9-6
165 – #9 Alex Marinelli (Unat. IA) pinned Clayton Bass (SIU Edwardsville), 2:13
165 – #9 Alex Marinelli (Unat. IA) dec. #8 Andrew Fogarty (North Dakota), 10-6
165 – Kaleb Young (Unat. IA) dec. #14 Jacen Petersen (Arizona State), 3-2
165 – Kaleb Young (Unat. IA) dec. #3 Clark Glass (Oklahoma), 3-2
165 – Tyrel White (Columbia) dec. #7 Joseph Gunther (IA), 3-2
174 – #2 Alex Meyer (IA) major dec. Dean Sherry (Rider), 12-3
174 – #2 Alex Meyer (IA) major dec. Jacob Morrissey (Purdue), 9-0
184 – #4 Sammy Brooks (IA) pinned Hunter Yeargan (Ohio), 4:20
184 – #4 Sammy Brooks (IA) major dec. Zac Carlson (SDST), 19-10
197 – #15 Cash Wilcke (IA) major dec. Jake Tindle (SIU Edwardsville), 13-3
197 – #2 Riley Lefever (Wabash) dec. #15 Cash Wilcke (IA), 5-4
285 – #4 Brooks Black (Illinois) dec. Steven Holloway (IA), 2-0
285 – #3 Sam Stoll (IA) dec. Jake Gunning (Buffalo), 5-1
285 – #3 Sam Stoll (IA) dec. #14 Dean Broghammer (Grand View), 8-3
 
 
CONSOLATION RESULTS
133 – Phillip Laux (IA) major dec. Alijah Jeffery (Northern Ill.), 10-1
149 – Michael Sprague (American) pinned Jerren Glosser (IA), 5:44
157 – Cullen Cummings (Ohio) dec. Skylar St. John (IA), 3-2
165 – #7 Joseph Gunther (IA) major dec. Rodney Williams (Oregon State), 17-3
165 – #7 Joseph Gunther (IA) major dec. Willy Scott (Rutgers), 10-0
285 – David Jensen (Nebraska) major dec. Steven Holloway (IA), 12-3
 
 
QUARTERFINAL MATCHUPS
125 – #1 Thomas Gilman (IA) vs. #8 Lucas Malmberg (Messiah)
141 – #7 Topher Carton (IA) vs. #2 Kevin Jack (NC State)
149 – #1 Brandon Sorensen (IA) vs. Ryan Deakin (Unat. Northwestern)
157 – #2 Michael Kemerer (IA) vs. #10 Alex Griffin (Purdue)
165 – #9 Alex Marinelli (Unat. IA) vs. #1 Isaiah Martinez (Illinois)
165 – Kaleb Young (Unat. IA) vs. Lorenzo De La Riva (CSU Bakersfield)
174 – #2 Alex Meyer (IA) vs. #10 Josef Johnson (Harvard)
184 – #4 Sammy Brooks (IA) vs. #5 Nathan Jackson (Indiana)
285 – #3 Sam Stoll (IA) vs. #6 Ross Larson (Oklahoma)
 
CONSOLATION MATCHUPS
133 – Phillip Laux (IA) vs. #14 Luke Welch (Purdue)
165 – #7 Joseph Gunther (IA) vs. Dustin Williams (Nebraska)
197 – #15 Cash Wilcke (IA) vs. Kevin Mulligan (Unat. Rutgers)