Hawkeye Fan Shop — A Black & Gold Store | 24 Hawkeyes to Watch 2016-17 | Hawk Talk Monthly — Jan. 2017 | 24 Hawkeyes to Watch: Sammy Brooks | Q & A with Sam Stoll | Match Notes in PDF Format
By DARREN MILLER
hawkeyesports.com
IOWA CITY, Iowa — Tom Brands will learn a lot more about his third-ranked University of Iowa wrestling team in the month of January after winning a fourth consecutive team title at the Ken Kraft Midlands Championships on Dec. 30.
 
There were plenty of good things for the Hawkeyes as they closed 2016 with a 5-0 dual record and a tournament championship. Discovering those "good things" didn't limit itself to senior Thomas Gilman (14-0), junior Brandon Sorensen (15-0), or freshman Michael Kemerer (16-0) who won individual Midlands titles.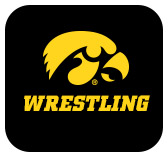 "We won six out of seven place matches at the Midlands," Brands said. "That's big for this program, especially when you look at and evaluate what happened at the national tournament a year ago."
 
At the 2016 NCAA Championships in New York City, all six Hawkeye All-Americans lost their final placing match.
 
So what happened on the backside of the bracket at Midlands caught Brands' attention.
 
After suffering losses on the front side, Hawkeye senior 184-pounder Sammy Brooks went 4-0 and placed third. Sophomore heavyweight Sam Stoll went 2-0 and placed third. Junior Phillip Laux (133), senior Topher Carton (141), freshman Joey Gunther (165), senior Alex Meyer (174), and freshman Cash Wilcke (197) combined to go 8-5 in consolation matches.
 
"Meyer gets beat in the semis, has to go right into a consolation semi match five minutes later and wins that match (5-2 over Devin Skatzka of Indiana)," Brands said. "A year ago he got in the top eight (at NCAA Championships) and ended up eighth.
 
"When you get in the top eight, you can still get third.  Those are the things you look at and winning tough matches under tough circumstances are things I'm hanging my hat on."
 
The road Brooks took to his highest Midlands finish is what Brands is referencing. He won his first two matches by fall and major decision, then lost to Nathan Jackson of Indiana, 3-1. Brooks rebounded with three straight wins, then won a rematch against Jackson, 10-5, to place third.
 
"You have to get as high on that stand and win matches after adversity or win matches that seem to be going against you and come back tough and strong and in the right frame of mind," Brands said. "I look at Brooks in the Nate Jackson match after Nate Jackson beat him and we're down 2-0 with 2:36 riding time going into the second period. We end up winning that match, not because we panicked, but because we did good things."
 
The Hawkeyes now switch from a tournament mentality and will have 10 straight duals before the Big Ten Championships from March 4-5 in Bloomington, Indiana. Their January dual schedule has wrestling fans everywhere drooling: at No. 15 Michigan (Jan. 6), at Michigan State (Jan. 8), at No. 1 Oklahoma State (Jan. 15), home against No. 2 Penn State (Jan. 20), and home against No. 4 Ohio State (Jan. 27).
 
Brooks is 13-1 and ranked fifth or sixth nationally. The fifth-year senior understands the significance of the opening Big Ten road trip.
 
"It will be good to get into an enemy arena and see what our guys do with an opportunity to cement themselves," Brooks said. "You have to pay attention to little things, it's not just winning or losing, it's how you go about it. There is something to be said about people going out there and scoring a lot of points."
 
Carton (15-2) and Gunther (12-2) will face two nationally ranked opponents on the swing through Michigan. Carton goes against Wolverine freshman Sal Profaci (8-5) and Michigan State junior Javier Gasca (17-4) at 141; Gunther takes on Michigan freshman Logan Massa (15-0) and Spartan freshman Drew Hughes (17-2) at 165.
 
"If we can keep making progress, there is definitely optimism," Brands said.
 
Friday's dual against Michigan begins at 6 p.m. (CT) in Cliff Keen Arena; it will be televised on BTN. Sunday's dual at Michigan State begins at noon from Jenison Field House.