Hawkeye Fan Shop — A Black & Gold Store | 24 Hawkeyes to Watch 2016-17 | Hawk Talk Monthly — Jan. 2017 | 24 Hawkeyes to Watch: Sammy Brooks | Q & A with Sam Stoll | Match Notes in PDF Format
ANN ARBOR, Michigan — One All-American returned to the lineup and three more scored bonus points to lead the University of Iowa wrestling team to a 31-7 win at No. 15 Michigan on Friday in front of a sold-out crowd Cliff Keen Arena.  
 
Sammy Brooks (184) won by technical fall in 5:19, Thomas Gilman (125) and Brandon Sorensen (149) both earned major decisions, and Cory Clark (133) shutout seventh-ranked Stevan Micic, 2-0, in his first action since Nov. 27.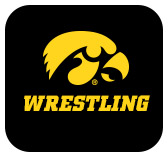 Clark never got to his offense in the match, but he escaped to start the third and added 1:55 of riding time in an appearance that could be described as progress.
 
"My best wrestling comes out when I get time on the mat," Clark said. "I'm not necessarily someone who can step on the mat and be at my very best right away.
 
"I wanted to wrestle and win by as many points as I could. It may not have looked that way because I didn't pull the trigger. I was pretty disappointed right after the match, but I usually am. I'm not going to be too hard on myself, I'm just going to move forward right away."
 
Clark was one of five Hawkeyes to earn wins before intermission. Gilman scored nine takedowns and scored bonus points for the 14th time in 15 matches this season. Sorensen used two takedowns, two nearfall points, and 1:56 of riding time to earn his team-best eighth major decision, and Topher Carton (141) and Michael Kemerer (157) both won by decision over ranked opponents.
 
Carton scored two takedowns in the final period to defeat No. 20 Sal Profaci, 8-4, and Kemerer outscored 10th-ranked Brian Murphy 4-1 in the third to win, 6-3.
 
Michigan rattled off consecutive wins at 165 and 174 after the break before Iowa closed the dual with three straight wins. Brooks used six takedowns and eight nearfall before his match was terminated, 20-4, 19 seconds into the third period.
 
Cash Wilcke scored five points in the third period to win 5-2 at 197, and Sam Stoll recorded a fall in 2:22 in his first dual appearance of the season. Stoll nearly gave up a takedown before going out of bounds, and responded by taking Dan Perry to his back seconds after a restart.
 
"I felt alright," Stoll said. "I have to do a better job of coming ready to go."
 
The Hawkeyes owned a 25-11 advantage in total takedowns, and in their four wins by decision, Iowa outscored the Wolverines 15-3 in the third period.
 
"There was some good stuff, but I'm not going to paint a rosy picture," Brands said. "Even though it is 2017 and we're supposed to be positive reinforcement minded because everybody is so sensitive, there are some things in that locker room that we have got to iron out. We're running out of time. Those things have to be addressed now."
  
Iowa (6-0, 2-0) returns to the mat Sunday at 12 p.m. (CT) at Michigan State. The dual is streamed live at BTN2Go.
 
NOTES: Attendance was 1,800, a sell-out… Iowa's 24-point victory was its largest over Michigan since winning 36-0 in 2010… Iowa has won 19 straight conference duals on the road, and 23 straight Big Ten dual overall… the Hawkeyes are 2-0 against ranked opponents… Clark improved to 17-10 all-time against top 10 opponents, he has won eight of his last nine… Carton's win was the first in his career against a ranked opponent… Sorensen improved to 19-0 all-time in Big Ten duals… Meyer lost for the first time in 15 Big Ten duals.
 
#3 Iowa 31, #15 Michigan 7
125 — #1 Thomas Gilman (IA) major dec. Austin Assad (M), 20-7; 4-0
133 — #1 Cory Clark (IA) dec. #7 Stevan Micic, 2-0; 7-0
141 — #15 Topher Carton (IA) dec. #20 Sal Profaci (M), 8-4; 10-0
149 — #2 Brandon Sorensen (IA) major dec. Zac Hall (M), 10-1; 14-0
157 — #2 Michael Kemerer (IA) dec. #10 Brian Murphy (M), 6-3; 17-0
165 — #2 Logan Massa (M) major dec. Joey Gunther (IA), 16-6; 17-4
174 — #7 Myles Amine (M) dec. #13 Alex Meyer (IA), 6-5; 17-7
184 — #6 Sammy Brooks (IA) tech. fall Ernest Battaglia (M), 20-4; 22-7
197 — Cash Wilcke (IA) dec. Jackson Striggow (M), 5-2; 25-7
285 — #6 Sam Stoll (IA) pinned Dan Perry (M), 2:22: 31-7
Iowa (6-0, 2-0)
Michigan (3-2, 0-2)